Here's What Female Tattoo Artists Really Want You to Know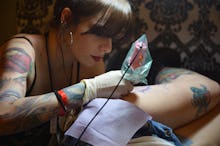 The sound of the tattoo guns drilling into skin, Black Sabbath blaring, an aggressive tattooed dude sizing you up... walking into a tattoo parlor can be an intimidating experience.
Tattoo parlors have historically been male-dominated spaces — dens of heteronormative ruggedness and toughness, populated and owned by men. Thus, entering this space, not to mention succeeding in it as an employee, can be an onerous task for female, queer and trans tattoo artists. 
Read more: The Surprising Way Tattoos Can Give Women an Advantage Over Men
Just ask Emily North, an artist working out of Gristle Tattoo, a vegan tattoo shop in Brooklyn, New York. "At the shops that I've [previously] worked at, or when I've gone [in] looking for a job, it's hard to get people to take me seriously," she told Mic. Why? "I am coming to the conclusion that it's because I'm a woman."
The rugged masculinity of tattoo parlors: "It's definitely super male-dominated and masculine — or it was," Jasmine T. Morrell, owner of LGBTQ-friendly Spirited Tattooing Coalition in Philadelphia, told Mic. 
Morrell identifies on the non-binary/trans spectrum, but felt comfortable speaking to the difficulties both female-identifying and non-binary-identifying artists in the industry face. It's Morrell, and others like them, who are challenging and changing the traditionally male-dominated industry, to create a safer space for not only their clients, but for themselves.
There's not a lot of data on the male/female ratio in the tattoo industry — and fewer on trans artists. "No one tracks numbers of female tattoo artists, but among 13 of about 40 licensed tattoo parlors in Chicago, only six have female tattooists, and the number of females in each of the six parlors does not exceed three," reported Medill Reports Chicago. Of those artists, not just in Chicago but worldwide, it's easy to assume that the main harassment non-male identifying artists have to deal with comes from customers, but not so. "It's all been coworkers," said North.
Early on, Morrell dealt with the type of workplace harassment that would make many with thinner skin pack up and leave the industry forever.
"Only in the 'rugged' tattoo world can someone very blatantly verbally abuse someone," they explained. "Like, what am I going to do, go to HR? There's no HR. He treated me with a huge amount of disrespect simply for being a woman and [was] saying really inappropriate sexual harassment things to me on top of everything." Morrell ultimately left that shop and thankfully hasn't experienced anything as bad since.
Another form of harassment having their work mocked or infantilized. "I have experienced sexist undertones in the beginning of my career," Dorothy Lyczek, who works at Trinity Tattoo Collective in New York, told Mic. "I've had my tattoos described as 'cute' by male artists, even when the subject matter was serious."
Artists like North noted that the body shaming of clients, similar to the infantilization of female artists' work by their male counterparts, is yet another problematic shard stuck in the industry. 
"I have a lot of queer clients and a lot of women. In other shops I've worked in, there's been underhanded comments made by other artists when clients would leave," said North. "I even notice on Instagram, if I post photos of women of size, people will say some sort of derogatory comment."
Inspired by the body positive Instagram movements such as Tess Holliday's Eff Your Beauty Standards, North uses these comments to propel her forward and celebrate diversity. "Negative [comments] have been really important for me to put images up of all different sizes, people of all different races," she said.
Creating female spaces: Beyond social media, there's one very clear way women are combatting judgment, harassment and stigma in the tattoo industry: by striking out on their own. 
In Minneapolis, for instance, the all-women shop Jackalope Tattoo opened. "The shop employs seven female artists. That's a scenario that is almost unheard of in what remains a very male-dominated profession, said owner Bambi Wendt, who has been tattooing in the Twin Cities for more than a decade," MPR News reported.
It's not just in the U.S. Take São Paulo's Sampa Tattoo, an all-girl tattoo parlor run by a woman named Samantha Sam, who told Vice that she started the business because there are "a lot of struggling girls in the business." 
That banding together is happening in a more organized way than ever. Through her research, North was able to help form a network of professional connections that have led her to do guest spots at Morrell's Spirited Tattooing Coalition, an LGBTQ-owned organization created in direct reaction to the prejudice within the industry and built to combat all forms of prejudice, including sexism and transphobia. 
"I opened the shop because I had [previously] hidden my feelings for what I wanted to allow myself and my clientele to be around," Morrell said.
"It's great to have people like Emily, or people that are trans or femme-identified, feel like they can tattoo at my shop and not be disrespected in the ways that they are when they are in a regular, mainstream street shop," Morrell said. "There's a lot of respect and mutual understanding in being part of the same kind of communities. I create a place that is safe for people, and for everyone who has come in... then I will do my best to make sure that that person feels safe."
Surprisingly, some men are now knocking at the door of shops like Spirited Tattooing Coalition looking for work. 
"There are dudes too, that have emailed me and been like, 'This is the type of place that I want to work at, because I can't even stand all the hyper-masculine energy going on.' That's a good indication of how bad it can be," Morrell said. "It's cool, there's kind of like sub-culture or micro-communities coming together in just the tattoo community."