What MarShawn McCarrel's Death Says About the State of Mental Health in America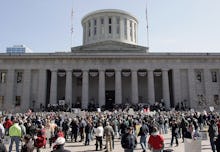 Editor's note: This post contains discussions about suicide, including quotes from a suicide note.
It was one month into the New Year and MarShawn McCarrel had a lot going for him. He'd just turned 23 years old. His family and friends loved him. He'd recently gotten back from Los Angeles, where he'd traveled to attend the NAACP Image Awards with his mother, Leatha Wellington, as his date.
He was also getting ready to start a new job in Washington, D.C. — a stark but exciting change from his hometown of Columbus, Ohio. A new romantic relationship seemed to be moving along nicely. His friends say he showed no obvious signs that anything was wrong.
Then on Feb. 8, McCarrel logged onto Facebook and typed an ominous status update. "My demons won today," he wrote at 2:37 in the afternoon. "I'm sorry." A few hours later, he climbed the steps of the Ohio Statehouse in downtown Columbus, put a gun to his head and pulled the trigger.
McCarrel's suicide shocked the local activist community. He'd been an advocate for the city's poor and black residents since he was a teenager, and was loved and respected throughout Columbus for his work. But ever since his death — and as protests roil across the U.S. against racial inequality and anti-black police violence — black activists are increasingly asking themselves: 
What role does preserving one's mental health play in the process of organizing and movement building?
It's a question that's come up more over the last two years than maybe ever before. The movement for black lives has coalesced largely over the internet — especially under the hashtag #BlackLivesMatter — but platforms like Twitter and Facebook have also hosted some very public conversations about mental health.
"Now I'm looking up and seeing that people are really broken. It's a thing not a lot of us have taken the time to process." — Ashley Yates, on the aftereffects of being tear gassed in Ferguson, Missouri
"Too often [BLM] gets conflated with being only about police violence and death," said Ashley Yates, 30, an organizer from St. Louis. "But it's really about the full reality of our lives. Part of that means asking, 'How are we surviving?' ... Your dedication has to be to yourself as well."
In May, Yates launched the hashtag #BLMhealing to draw attention to the need for self-care among organizers. Others joined in, sparking a passionate conversation about how racism, activism and mental health intersect in America. It was their way of having a dialogue they felt many of their peers were failing to have in private.
"I remember talking to medics up and down Florissant a couple years ago," Yates said, referring to the street where protesters in Ferguson, Missouri, were tear gassed by police in late 2014. "I remember them telling us, 'You're going to have [post-traumatic stress disorder].' Now I'm looking up and seeing that people are really broken. It's a thing not a lot of us have taken the time to process."
Protesters in Ferguson are not alone, of course. Black liberation struggles have faced varying degrees of turmoil, both physical and psychological, for a very long time. From police using tear gas in Selma, Alabama in 1965 to the Los Angeles riots of 1992, the violence in Missouri was far from unique in the history of black struggle.
Even Dr. Martin Luther King Jr. — the most celebrated activist of his time — was known to suffer from "desperate" bouts with depression. But issues of mental health were rarely talked about in those days. Dr. Josie Johnson, 85, doesn't recall discussing her feelings much at all over the course of her civil rights work.
"Mental health was not an issue that I remember us thinking about," she said. "We expected there to be a lot of backlash against us. What we were doing was focusing on ways to change the laws that were designed to prevent us from feeling free and equal and just."
Johnson has been a civil rights activist since she was 12 years old. She started by protesting against racist poll taxes in her home state of Texas in the 1940s, and eventually joined the Freedom Riders on bus trips from northern cities — like her adopted hometown of Minneapolis — to fight injustice in the Jim Crow South.
"King, look into your heart. You know you are a complete fraud and a great liability to all of us Negroes." — Excerpt from a letter sent to Dr. Martin Luther King, Jr., by the FBI
"I don't mean to romanticize it in any way," she said of her peers' lack of emphasis on their mental health. "I think that we just focused differently."
This doesn't mean activists weren't frustrated — quite the opposite, in fact: As early as the Red Summer of 1919, W.E.B. Du Bois was expressing a near-"apocalyptic bitterness" with the state of American race relations, according to David Levering Lewis' 2001 biography, W.E.B. Du Bois, 1919-1963: The Fight for Equality and the American Century.
"Could [Du Bois'] readers imagine the hypocrisy of the United States protesting Turkish atrocities in Armenia [in 1915]?" Lewis wrote. "What was Armenia or Louvain, Belgium, razed by the Hun, 'compared with Memphis, Waco, Washington,' places where American citizens of African descent had been brutally dispatched?"
In some cases, activists' psychological fragility was preyed on by their enemies in the U.S. government. In 1964, the FBI sent a now-famous "suicide letter" to King that seems to urge him to take his own life. "King, look into your heart," the letter reads, taking on the voice of a disillusioned black everyman. "You know you are a complete fraud and a great liability to all of us Negroes.
"[There] is only one thing left for you to do. You know what it is ... You better take it before your filthy, abnormal fraudulent self is bared to the nation."
According to Johnson, this level of depression may not be new among activists today — but the language used to describe it is. "I believe those terms were new language that was brought into the struggle by white psychologists and sociologists during that period," she said. "[Our] determination as black people is hard for many to understand. I think people needed labels to explain it."
These labels have also proved to be important. It's no secret that mental health conversations are at least slightly less shrouded in stigma, and hence more openly discussed today than they were in the 1950s and 1960s. Even the term "post-traumatic stress disorder" didn't crystallize until the 1980s — let alone the broader conclusions that have been drawn about how PTSD corresponds to racial inequality.
This evolution of language has also helped black activists have mental health conversations more fluidly online. But as these terms and our understanding of them grow, they still have trouble capturing the sordid history on which relationships between blacks and the American medical establishment are based.
Even before the mid-20th century, black people had a fraught relationship with mental health practitioners. Racism was woven into the fabric of mental illness diagnoses and treatment since early on. In the early 1800s, racist pseudo-sciences, like "phrenology," became tools for justifying slavery, medically categorizing black people as intellectually inferior to whites. Black people's desire to get free was similarly pathologized as mental illness, in the form of "drapetomania" — a so-called "disease" that described slaves who ran away from bondage.
In the 20th century, black people's reactions to their racist environments were often framed as mental deficiencies. In 1967, three Harvard Medical School neurosurgeons wrote a letter to the Journal of the American Medical Association citing "brain dysfunction" as one of the reasons for race riots that broke out in Detroit that summer.
Meanwhile, the brains of black children have been used for dubious and dangerous medical experiments. In the late 1990s, black and Hispanic boys housed at the New York State Psychiatric Institute were given doses of a now-banned diet drug called fenfluramine just to see if it would alter their behavior. They were all between the ages of six and 10 years old.
This ugly history has required black people to find their own mental health care solutions. Many have found solace in the black church, or in various forms of artistic expression. "We see it in our style, in our music, in our paintings," Johnson said. "We sang about the blues of our people. So talking to a psychologist, or people who were classifying us as such and such ... these were things that I don't remember having to think about."
Yet these methods also have their limits. Yates described the black church as having a painful relationship with black queer people like herself, for instance. "I know that the history and relationship between queer folks and black church is long, painful and complicated, and it's one we're still navigating," she said.
Over time, alternative healing spaces have popped up to fulfill these needs. Adaku Utah, 31, co-founded such a space, Harriet's Apothecary, in Brooklyn, New York, in 2014 — inspired in part by the free medical clinics established by the Black Panther Party for Self-Defense in the 1970s. Doctors at these free clinics incorporated their understanding of the unique social and psychological space black people occupied in American history into their day-to-day medical practices.
Utah uses a similar approaching, combining traditional black and indigenous medicines, dance and song in her healing work. "Black people's bodies have been violated by the medical industrial complex for so long," she said, adding that racism impacts how the healing arts are practiced. "A lot of interpretations of disease can be socialized interpretations rooted in anti-black racism. Unless you have a therapist who has done a critical analysis of race and mental health, you could fall victim to care that actually reinforces violence."
Black people today are 20% more likely to suffer from a severe mental health condition than the general population, but 40% less likely than whites to seek help.
But none of these methods, modern or traditional, seem to have provided all the answers. According to the National Alliance on Mental Illness — citing the Health and Human Services Office of Minority Health — black people today are 20% more likely to suffer from a severe mental health condition than the general population, but 40% less likely than whites to seek help.
Stigmatization, lack of convenient access to care and even racial biases from doctors are some of the reasons, according to the report. This disparity also underlines a chilling statistic: The suicide rate among black children ages 5 to 11 doubled between 1993 and 2012, according to the New York Times, despite black suicide rates as a whole skewing much lower on average than whites'.
Researchers have pointed to strong family and interpersonal networks as reasons why black rates are lower, despite being exposed to violence and trauma at much higher frequencies than their white peers. It's a natural response to being shut out, stigmatized and violated by the mental health establishment for years. But the glow of these powerful networks inevitably gets dimmer every time another victim falls through the cracks.
The same can be said today. Ever since the night he died, McCarrel's friends and family have struggled to understand why he took his own life. "I knew things had been tough lately, and he seemed to be pulling back from stuff a little bit," said James Hayes, 26, a friend and fellow organizer. "But I didn't think much of it. I was totally blindsided."
On Jan. 14, McCarrel posted a screenshot to Facebook of a threatening email he'd recently received. According to Hayes, such letters weren't uncommon, but didn't usually provoke a response. This one was different. "I usually don't share these because they're ugly and powerless," McCarrel wrote in the caption to his post. "I'm usually not petty and don't respond but I'm up today lol."
The letter read, simply, "Were [sic] gonna keep making your life hell till you keep your NIGGER mouth closed."
Less than one month after that — the day before he killed himself — McCarrel's friend, 23-year-old Marese Collins, was shot dead by police in Columbus. The photograph used in WBNS's news story was a mugshot of Collins in an orange jumpsuit. "Rest in power homie," McCarrel wrote that morning. "Let's tell [WBNS] that bro had way more pictures to choose from."
It's easy to look at these incidents and make assumptions about why McCarrel died. But at every turn, the story gets more complicated. McCarrel loved his work. He was funny, outgoing and beloved in his community. He was also clearly struggling with demons nobody else knew he had. "It just feels like everything being said about him is too generalized," Hayes said. "He wasn't some depressive kind of person. This work wasn't a burden for 'Shawn. The work was a refuge. It helped him. It's the world that was hard."
What becomes clear is twofold: First, that friends and family may never truly know why McCarrel died; and second, that the conversation about black Americans and mental health deserves a nuance and scrutiny that's rarely been applied to it before. The conversation has certainly evolved since the mid-20th century. But centuries of violence and earned distrust for the American mental health establishment has made it a fraught topic in black communities.
That's why alternative spaces are so important — including those online. Perhaps the biggest difference between the mental health discussion during the civil rights movement and today is that activists now are talking about it more publicly. Twitter, Facebook and other social media outlets have become open forums for de facto therapy sessions and debates aimed at grappling with the emotional tolls of American racism.
This is a good thing. "To my knowledge, it feels like this is unique to this moment," Yates said. "I'd be remiss to say black folks haven't found ways to take care of ourselves over the centuries ... [but] there hasn't been such a public emphasis [on our mental health]. At least not one that's gotten back to the masses."
In the meantime, one truth remains unchanged: MarShawn McCarrel, another young black man with friends, a loving family and a community that treasured him more than he could know, lies dead and buried beneath Ohio soil today. The next step is to make sure discussions about mental health start saving the lives they aren't saving already.
You can reach the National Suicide Prevention Lifeline at 1-800-273-8255.