12 Drake Instagram Photos That Prove He's the Coolest Rapper in the Game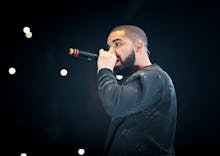 Tibrina Hobson/Getty Images
For many, the obsession with Canadian powerhouse rapper Drake knows no end. The constant-hit maker has built a titan of a brand that hinges on his persona, an empire the rapper's been able to construct thanks to the music with which he seduces listeners. The artist's work has inspired a bevy of imitation art — whether that's his lyrics transformed to poetry or transposed on cake, or if it's wearable Drake fare. And at a time when the artist is flying at the height of his career, it's perhaps plain to many that Drake is killing the rap game. 
Read more: If Drake's New Album 'Views From the 6' Is Anything Like the Last, It'll Be a Classic
Here are 12 photos from the artist's Instagram account that prove that, as a rapper, Drake is unshakable, and as a person who has earned his success, he's easy to love. 
1. Drake made Toronto Life's "50 most influential people" list. He captioned the post, "My most important magazine cover to date."
2. He recently starred in the music video for "Work," off Barbadian megastar Rihanna's latest LP, Anti. 
3. Here, Drake casually documented the making of a chart-topping track and a viral hit of a music video for "Hotline Bling."
4. Drake is something of a style icon. Timberlands have never looked so good.
5. Drake's cool factor is boundless. See here: Drake, a double-exposed baller.
6. His lyrics are inspired, and have even been transformed into poetry. At times, his words of wisdom are whispered.
7. Drake fans are die-hard.
8. His live performances are breathtaking...
9. ...and his travel game is on point.
10. Drake is also a legitimate business, man. 
11. He's got friends in high places to support his endeavors. 
12. But back to what it's really about — simply put, the man is a musical mastermind. Here's Drake in his element:
Fans of Drake are ferocious in their hunger for the rapper's upcoming studio album, Views From the 6, which is scheduled for release in April. Yet in the interim before new Drake material surly breaks the internet, expectations are flying about as high as Drake's career.
"Views is going to break the internet in half once it drops," Derrick "Biz" Lawrence, the manager of culture and music blog It's BizKit, told Mic in January. The publication tweeted a cryptic video teaser for Views that was allegedly soundtracked by a snippet of one of the upcoming album's tracks.
"Drake is Drake," Lawrence said. "It's going to break the internet worse than when Kim Kardashian released her last set of photos."
Feb. 25, 2016, 9:12 a.m. Eastern: This story has been updated.