Jay Z's Net Worth — and How He Made His Money — Proves He's a True Hip-Hop Mogul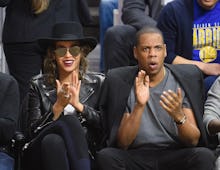 Noel Vasquez/Getty Images
If Beyoncé is hailed as the queen of the music industry, Jay Z should be touted as its rightful king. The rap mogul has 12 studio albums under his belt — including 2001's The Blueprint, a critical staple to his career — and is one of the best-selling rap artists in the industry. Just like he spits in "Clique," Jay certainly knows how to "turn that 62 to 125, 125 to 250, 250 to half a million" in every business endeavor he pursues, and his net worth proves it.
In fact, his net worth more than doubled in 2007 thanks to his fashion company, Rocawear, selling for over $200 million. Jay's entertainment deal with concert-promotion company Live Nation earned him a cool $150 million as well, with nearly $50 million upfront, according to Business Insider.
Read more: Jay Z's Tidal to Donate $1.5 Million to Black Lives Matter, Other Social Justice Groups
As of 2015, Forbes puts Jay Z's net worth at $550 million, a total that has steadily grown since the beginning of his career, with the bulk of it being earned within the latest decade. Jay Z is also the third-wealthiest hip-hop artist on the 2015 Forbes Five, only behind fellow rappers Diddy and Dr. Dre. 
A king and queen must always watch the throne, however. Multiple recent lawsuits have been handed to Jay Z, which could prove to undermine his entrepreneurial pursuits, and Tidal's impact is still unclear, though his music streaming business got off to somewhat of a rocky start. However, the two artists recently won a lawsuit against them for their hit collaboration "Drunk in Love." If all else goes well, 2016 could just be a bumpy road on the pair's path to becoming billionaires. 
Forbes puts his wife's net worth at $250 million, which means the artists have a combined $800 million, approximately. And, with an upcoming album expected to top the charts as well as the Formation World Tour, the queen might just be putting in enough work for the pair's status to elevate rather quickly in 2016.