Puerto Rico Just Confirmed Its First Openly Lesbian Chief Justice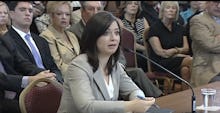 The Puerto Rico Senate voted to confirm Associate Justice Maite Oronoz Rodríguez as chief justice of the commonwealth's Supreme Court on Monday, making her the first out lesbian individual to hold this position in the United States, Dallas Voice reported Tuesday. 
The 39-year-old politician is no strangers to firsts: She also became the youngest member of the Puerto Rico Supreme Court when she was first appointed as the commonwealth's deputy solicitor general and chief legal counselor for the city of San Juan in 2014, according to the Associated Press.
The LGBT community supports her trailblazing path. Omar Gonzalez-Pagan, an attorney for the LGBT civil rights organization Lambda Legal, called Oronoz Rodríguez's nomination a "significant step towards a judiciary that reflects the growing diversity of the United States," the Associated Press reported.
Rodriguez joins a growing cohort of out LGBTQ politicians. There are seven LGBT members in the 114th Congress, according to Mashable. LGBTQ officials also span local levels of government, including Park Cannon, a recent addition to the Georgia House and its first out queer member, and the first out bisexual governor in the United States, Kate Brown of Oregon.
In June, Americans celebrated the Supreme Court's decision to legalize same-sex marriage as a definitive victory. But LGBTQ individuals frequently fail to achieve legal recourse for discrimination. For example, despite Puerto Rico's governor signing a 2013 bill prohibiting gender- or sexuality-based employment discrimination, the behavior still persists in the commonwealth and beyond: 21% of LGBT employees reported discrimination at work, as had 47% of transgender workers, the Los Angeles Times reported in 2013, and gay or transgender individuals can still legally be fired for their sexual or gender identity in 28 states, according to USA Today.
But, perhaps with representative politicians, the tide will soon change. As Oronoz Rodríguez herself stated, she intends to use her position to "receive with open arms a citizenry that demands human justice."
h/t Dallas Voice