Beyoncé Will Have a Portrait Series in Garage Magazine and the Preview Is Stunning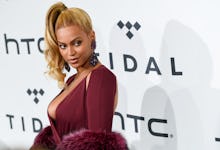 Evan Agostini/AP
***Flawless: Beyoncé's forthcoming portrait series in Garage magazine, judging from the preview that hit the internet Wednesday. The magazine teased a photo of radiant Queen Bey in cornrows and what looks like zero makeup. The BeyHive is buzzing.
Read more: "Formation" Lyrics: Meaning Behind Beyoncé's New Black Power Anthem
The preview portrait is one of a series shot by Urs Fischer, a Swiss artist based in New York City, for Garage's 10th issue. Blending various mediums, Fischer's work gives artistic traditions an ephemeral treatment. See the below portrait of Beyoncé haloed in multicolored paint for reference.
Read more: 5 Moments From the "Formation" Video That Prove Beyoncé Is Woke AF
"Are you ready for #teamGARAGE and @beyonce?" the caption on the Instagram post of the portrait reads. It must be a rhetorical question — of course we are.
The #TeamGARAGE x Beyoncé issue isn't live yet, but interested parties can keep an eye on the magazine's Twitter feed for updates. While there's no confirmation of the feature's content yet, another Instagram shot from the magazine says that Bey will be speaking — perhaps about her recent "Formation" release? Super Bowl halftime act? Her next album? The anticipation is killing us.