Are the Oscars on Tonight? Everything You Need to Know About the 2016 Academy Awards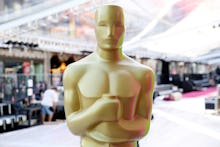 Matt Sayles/AP
After months of hype, speculation and controversy, the 2016 Oscars will air live on Sunday, Feb. 28 at 8:30 p.m. Eastern on ABC. Red carpet coverage on ABC will begin at 7 p.m. Eastern. The Oscars will also stream online at ABC.com and through the Watch ABC app.
The 88th Academy Awards will be hosted by comedian Chris Rock, and the night's presenters and performers include Tina Fey, Louis C.K., Morgan Freeman, Whoopi Goldberg, Sarah Silverman and Pharrell Williams.
Read: The Oscars Are Nearly as Male as They Are White
The eight best picture nominees include The Big Short, The Revenant, Room and Spotlight.
All eyes will be on Leonardo DiCaprio to see whether the actor, who has never won an Oscar, will take home the best actor win for The Revenant. Other best actor nominees include Bryan Cranston, Michael Fassbender, Eddie Redmayne and Matt Damon.
Cate Blanchett, Brie Larson, Jennifer Lawrence, Charlotte Rampling and Saoirse Ronan will compete in the best actress category.
A full list of the 2016 Oscar nominees is available online.