5 Things Cities Can Do to Move Toward Sustainability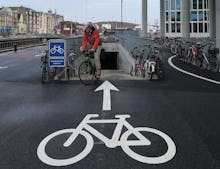 McClatchy DC/Getty Images
By 2050 about 75% of people will be living in cities, according to the Atlantic. As these cities and their populations continue to swell, the question of living in harmony with the environment looms over as a pressing-but-daunting task. 
Sustainability is more than just regularly recycling — it plays a part in the economy, society and politics, and promises a place to live for future generations. Often, inequality, political instability and a lack of financing can block a city's potential for being more sustainable, the Guardian reported. 
Read more: 8 Easy Steps to Make Fashion Smarter and More Sustainable
"While sustainability is often measured using quantitative tools, we should emphasize the value of qualitative studies that flag up differences of view, experience and interpretation — of community, city life, regeneration, impact of development — as well as suggest the potential for a diversity of sustainable futures," Juliet Davis, senior lecturer in architecture at Cardiff University, told the Guardian.
This is where new technologies and innovations for reducing an urban center's carbon footprint come into play. It may sound counterproductive to some, but greener and cleaner cities can end up being more sustainable than nature-adjacent towns by being dense and efficient places to live, the Huffington Post reported.
1. Going Car-Free
By optimizing walking, biking and public transportation, cities can greatly reduce the massive carbon footprint created by cars. As of 2011, public transportation saved 37 million metric tons of carbon emissions, according to the American Public Transportation Association. There's still the potential for more, as the industry is expanding green initiatives and routes. 
2. Urban Ponds
Manmade urban ponds can act as additional reservoirs during heavy rainfall, according to the Atlantic. The pond also helps to catch stormwater runoff from destroying the surrounding area. When it rains, water is caught in the pond and can be released into the sewer system to be treated for better water quality. 
3. Repurposing Areas Into Parks
"The possibilities in every city are endless: Obsolete industrial and harbor areas, degraded waterfronts, underutilized transportation hubs and dilapidated historical buildings are not eyesores, but spaces begging for new uses," the New York Times reported. Turning an abandoned area into a park can attract new residents and enhance the city. 
4. More Efficient Buildings
Clean energy can be abstract, and a more tangible derivative of the idea is to build more efficient buildings, where people work, live and play. In the developed parts of the world, 40% of carbon dioxide emissions come from running buildings, according to National Geographic. Buildings that are better insulated and ventilated could save up to 30% of energy. 
5. Solar Power
Solar power is an important step in getting closer to clean energy. Many people don't even think about electricity plants and the energy they use, according to National Geographic. But installing more solar panels onto rooftops can help cut down on the that reliance.