We Could Soon Get the Mary-Kate and Ashley Museum We Deserve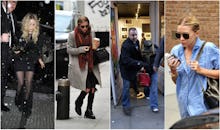 The greatest artists to have ever lived often get their very own museums. There's a Vincent Van Gogh museum in Amsterdam. An Andy Warhol museum in Pittsburgh. A Salvador Dali one in St. Petersburg, Florida.
But you know who else might worthy of such an honor? Mary-Kate and Ashley Olsen. 
That's according to New York City residents Viviana Rosales Olen and Matt Harkins, the same duo responsible for last year's Tonya Harding Nancy Kerrigan 1994 Museum. 
Now, the pair have launched a Kickstarter for their latest endeavor, an Olsen twins exhibition, which they're titling "Olsen Twins Hiding From the Paparazzi."
Exactly what makes the Olsen twins so ideal and worthy of an exhibition of their own? For starters, they're literal urban legends in New York at this point, chain smoking in SoHo alleys, carrying boxes throughout the city and looking like gothic children on Met Gala red carpets.  
Read more: Why the Olsens Didn't Do 'Fuller House' – Mary-Kate and Ashley MIA From Netflix Spinoff
"Nobody really knows a lot about the lives of the present day Olsen twins," Olen and Harkins told Mic. "They're pretty reclusive and only show up from time to time on a red carpet looking very wet. ... The director of Full House said they were chosen to be in the show because they were the only babies that didn't cry or make any noise. If you look them up on Getty Images, its pages and pages of them smoking outside their office." 
And if you're asking what exactly is Mary-Kate and Ashley art? Well then, here it is: 
The paintings are by Laura Collins, a Chicago artist who just so happens to have a knack for painting pictures of the twins hiding from the paparazzi. They're a lot like Degas' paintings, but instead of ballet dancers, it's MK hiding behind a Starbucks cup. 
According to the creative duo, Collins' paintings sparked the initial idea for the exhibit. 
"When we saw Laura's paintings, we couldn't stop talking about how cool they were, especially how creepy the idea of all of them on display right next to each other sounded," they said. "Like walking down a hallway and everywhere you look women are hiding their faces from you."
"A lot of people have memories of the Olsen twins from their movies or from watching Full House," they added, "but for us, we're interested in the adult Olsens."
Another key motivation for Olen and Harkins was the news that Mary-Kate had "bowls of cigarettes" as centerpieces at her wedding. That "activated something inside of us that responds to glamour and secrecy," they said. 
So of course, the museum includes an imagined replica of MK's wedding tables:
Unlike the Tonya Harding Nancy Kerrigan 1994 Museum, which they hosted in a hallway of their shared apartment, the creators actually want to rent a space big enough to hold all of the art they hope to collect for the exhibition, which will last for about two weeks in April. 
With that extra space, they're hoping to even host celeb-inspired events, like Real Housewives symposiums and a Sia Soul Cycle class. They also plan on having a Kylie Jenner selfie station. 
"We are less concerned with what it makes you think about, more that you leave with a smile," they said.