A Doctor 3-D Printed This Man's Vertebrae — And the Surgery Looks Like a Success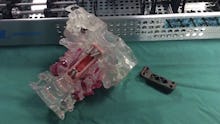 In the future, damaged body parts will be replaced with 3-D printed organs, bones and skin. And because the future is now, doctors are already toying with these implants. 
A doctor in Sydney, Australia, has successfully replaced vertebrae in a patient's spine with 3-D printed versions, according to ABC News Australia. The patient, Drage Josevski, was diagnosed with a rare cancer called chordoma that affected the top of his spinal column, near the brain stem. That area is particularly difficult to treat and required removing parts of the spine. Dr. Ralph Mobbs told ABC that to not operate would have left Josevski to suffer a potentially long and painful death. 
"He would gradually lose function of his arms and legs, gradually lose function of his capacity to breathe, eat, let's not take it too far further than that, it's not a pleasant death at all," he said.  
The difficulty of the situation led Mobbs to consider a progressive alternative: 3-D printing new vertebrae. He designed the bones and then ordered the custom implant. 
In total, the surgery took 15 hours, and while removing the tumor was cumbersome, inserting the 3-D printed vertebrae was simple, Mobbs said. "It was beautiful just to slot in the implant and have it fit so nicely and to be able to reconstruct the space left by the tumor," he told ABC. 
Now Josevski is in recovery. It will likely take many months before he's able to talk or eat, but he is able to move his head. The apparent success of the procedure isn't just good news for Josevski, it's also a landmark for 3-D printed materials in medicine. 
As more companies arise with innovations in 3-D printed body parts, like Organovo and Epibone, surgeries like Josevski's indicate that there's a real need for this technology, helping to usher in medical innovation.