Canadian Province Pledges $100 Million to Investigate Violence Against Indigenous Women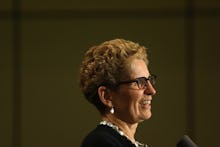 At long last, progress.
Two months after Canada's government announced a national inquiry into the country's missing and murdered indigenous women, the province of Ontario is getting a head start. Premier Kathleen Wynne announced on Tuesday that her government would pledge 100 million Canadian dollars ($73.6 million) toward a three-year plan to investigate the roots of the violence.
Read more: Canada's Government Launches Inquiry Into Missing and Murdered Indigenous Women
Indigenous women in Ontario are three times more likely to be murdered than women of other ethnicities, according to a news release from Wynne's office published Tuesday. "The strategy is one of many steps on Ontario's journey of healing and reconciliation with First Nations, Inuit and Métis peoples," the release read.
Ontario's six-part plan will include a new family wellness program to support indigenous families in crisis and help them deal with intergenerational trauma. It will also include a "survivor-oriented" human trafficking intervention program, new police training and mental health support for survivors.
The announcement represents Canada's most detailed plan to address the phenomenon thus far. The national government — under recently elected Prime Minister Justin Trudeau — has launched a series of discussions with indigenous leaders and the families of victims to determine the scope and logistics of its upcoming inquiry. But Ontario's plan represents a strategy and budgetary commitment that's yet to be matched by other provinces.
The pledge is a response to a crisis that's been plaguing Canada for decades. It was previously estimated that 1,200 indigenous women have gone missing or been murdered across the country since 1980, but that number has since been upped to 4,000, accounting for gaps in reporting and other miscalculations, according to the New York Times. Indigenous women are 4% of Canada's female population but accounted for 16% of women who went missing or were murdered between 1980 and 2012.
For years, advocates have been pressuring Canada's government to launch an inquiry into the issue. But the conservative government of former Prime Minister Stephen Harper frequently sidestepped the implication that race had anything to do with the disparities. 
"I think we should not view this as sociological phenomenon," he said in a controversial statement in August 2014, according to the CBC. "We should view it as crime. It is crime, against innocent people, and it needs to be addressed as such."
"[It] isn't really high on our radar," Harper added in a video interview with the CBC's Peter Mansbridge in December 2014. Trudeau roundly defeated Harper in the national elections in October, riding a liberal platform that included promises to address the crisis. A year before he was elected, Trudeau called the phenomenon of missing and murdered indigenous women "a national tragedy" in a Facebook post.
Indigenous leaders have praised the decision to conduct an inquiry, and Ontario's commitment in particular. "When it comes to violence against indigenous women, there has always been a gap in the system," Deputy Grand Chief Denise Stonefish of of the First Nations Women's Caucus, Chiefs of Ontario, said in a statement. "We deserve justice that is fair and culturally supportive. The reforms outlined in this plan reflect that and will help bridge that gap."
Ontario's move constitutes another step closer to closure for the families of Canada's missing and murdered indigenous women, and hopefully will be the first of many.