8 of the Most Empowering Nicki Minaj Songs and Verses to Bring Out Your Inner Diva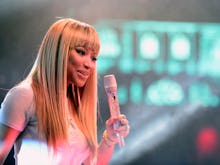 Bryan Steffy/Getty Images
Part of the reason why Nicki Minaj has become such a critical success in the music industry is because she celebrates every aspect of herself. From her femininity, to her boss mentality, the "Anaconda" rapper doesn't hold back her self-love, embracing her curves, her womanhood, her triumphs and her successes. 
Fans credit the rapper for providing a sense of empowerment, and it's no coincidence, either. "I've always had this female-empowerment thing in the back of my mind — because I wanted my mother to be stronger, and she couldn't be," Minaj told Details magazine. "I thought, 'If I'm successful, I can change her life.'" Now, as a mainstay in the rap game and a continuously chart-topping success, Minaj's songs help all types of people cope with the obstacles and challenges they may face.
Read more: 17 Times Nicki Minaj Perfectly Shut Down Sexism
Minaj released The Pinkprint in 2014, providing fans a more candid, emotional glimpse into the her life after ending her long-term relationship with fellow rapper Safaree Samuels. Some of those hits were slow and sad, while others were uplifting club anthems. Most included the same exact feeling, however, which was an ode to self-love and empowerment, no matter what. 
Everyone can find their inner diva inside a Minaj tune. 
"Want Some More"
"Buy A Heart" Featuring Meek Mill
"Bed Of Lies" Featuring Skylar Grey
"Feeling Myself" Featuring Beyonce
Nicki's Verse in Kanye West's "Monster"
"Only" Featuring Chris Brown, Drake, Lil Wayne
"Fly" Featuring Rihanna
"Va Va Voom"