Justin Tranter Talks Being "the Music Industry Gay Boy" Who's Writing for Cis Stars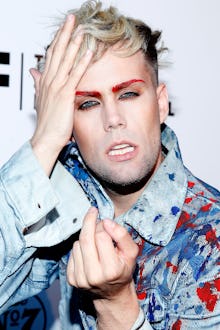 Justin Tranter still can't believe it either. "I walked into a session with a very famous producer and I'm in makeup and heels," Tranter, scribe behind Justin Bieber's "Sorry" and Selena Gomez's "Good for You," told Mic, said while sharing a story that's somehow as commonplace as it is astounding. "I'm like: 'Hey! I'm Justin. I'm here for the session.' And this guy turns around and goes, 'What?! I didn't think you were gonna look like that!'"
Tranter chuckled as he detailed this encounter, a knowing giggle that belied disbelief.
"I was like, 'Oh my god, is anyone hearing this right now!? Is this actually reality?'" he continued, baffled by the fact that in Hollywood, in pop music, in 2016, he could be experiencing this kind of homophobia. 
Later, Tranter recounted arriving at another famous producer's Hollywood Hills abode and a new signee greeting him with a jab: "The Music Industry Gay Boy is here!" And he certainly is.
In the past 18 months, Tranter has cranked out a seemingly infinite torrent of hits, many of them in tandem with frequent collaborator Julia Michaels. These includes Gomez's "Hands to Myself," Fall Out Boy's "Centuries," DNCE's "Cake by the Ocean" and Gwen Stefani's "Used to Love You." At 35, he's already an industry vet, working as the frontman of glam punk outfit Semi Precious Weapons for a decade before transitioning to writing for other artists.
Yet, as these slights highlight, his success represents an all too rare moment when an out and outré queer man — one who shows up to sessions or an arena opening for Lady Gaga, which his band did for years, in 6-inch stilettos — has found his way to the center of the heteronormative modern pop music apparatus. "I call it 'half trans,'" Tranter joked of his androgynous signature look.
Given how queer pop music is, with gay men as some of its most visible pop consumers and gay culture as one of the genre's most notable influences, the lack of queer guys in Tranter's position is shocking. Consider Cher, Madonna's "Vogue," Bowie's cosmically queer Ziggy Stardust, Mick's hips, Prince's heels, Nick Jonas' come-hither eyes in Out or queer bounce pioneer Big Freedia's ad libbing on Beyonce's "Formation." Pop has queerness built into its very core — and yet gay and queer men infrequently partake in its highly lucrative spoils. 
"I like to play this game," Tranter offered, "where I ask people to count gay pop writers and producers they know. Everyone's always like, 'Oh, there are plenty!' But we always end up counting them on one hand. That's fucking crazy."
People will be like 'Oh, it's just music,' and I'm like, 'Well, no. It's my perspective and my perspective is a queer perspective. Straight people don't have to say it because their perspective is assumed.' — Justin Tranter
The rise to pop royalty: Justin Tranter grew up in Chicago. When he was a kid, he danced around his room to the Annie soundtrack before discovering the pop singer Debbie Gibson. His worship of Gibson, as well as his shame surrounding what this worship revealed about his sexuality, almost took his path into a very different territory than the chart topping wonderland where it is now: a life of crime. 
"I actually stole Debbie's Perfume, which was called Electric Youth, from a Walgreens because I was too embarrassed to tell my mom I wanted it," Tranter revealed with his trademark candor. "Which is funny because my mom is literally the coolest person ever and would have totally bought it for me. But at seven you're like, 'Oh my god, I can't want a girl's perfume! By Debbie Gibson! Called Electric Youth! I have to just steal it.' So I stole it."
Petty perfume theft aside, the moment where things really gelled for Tranter musically was when he unearthed the pantheon of mid-'90s female alternative singer-songwriters: Courtney Love, Ani DiFranco, Paula Cole and, perhaps most presciently, Gwen Stefani. When Tranter first mentioned Stefani's name, he paused and repeated it, just to make sure we were clear: "Gwen. Motherfucking. Stefani! That was when it was like, 'Okay. I have to make music.'"
If one ever needed proof that unfettered passion can manifest wondrous things, then Tranter's teenage devotion to Stefani is that affirmation. A week prior to our conversation, Stefani released her new single, the Tranter co-scribed nu-disco romp "Make Me Like You," and announced her third studio album, This Is What the Truth Feels Like, which features a Tranter co-write on nearly every single song. "I could never have another hit again and I don't give a fuck!" Tranter gushed about working with Stefani.
"Every single song we wrote," he explained, "we were writing Gwen's life. Literally every syllable has to be her truth or it's not making it into the song." 
But of course, Tranter couldn't help but to create from his own experience. "In the back of my head, I'm always thinking, 'How does this relate to me?' so that I can contribute real lyrics and experiences. I need to see it through my perspective. And ultimately, that's a queer perspective because I'm a queer person."
Perhaps not since Freddie Mercury in the '70s and '80s has an unabashed queer male voice been involved in such a cornucopia of American hits as Justin Tranter's is right now. Late last week, Tranter posted an Instagram which notes he's co-written three songs — "Sorry," "Hands to Myself" and "Cake by the Ocean" — which simultaneously sit in the Top 10 on the pop radio airplay chart. It was accompanied with the note: "Hey queer kids, keep fighting, singing and shouting. Our dreams can come true too."
Unlike the tiny handful of out gay pop entities who've broken through in the last decade — most notably Sam Smith, who has talked extensively about masking his sexuality, as well as sex in general, to make sure his "music reaches everybody" — Tranter is fervent about bringing his perspective as a queer man to his hits as much as possible while still serving the artist's vision. 
The better these perspectives fit together, of course, the better the outcome.
For instance, "Good for You," last year's Selena Gomez hit which rebranded the Disney kid as a bonafide adult pop star and launched Tranter into the toplining stratosphere, covers subject matter that is not only undeniably sexual, but undeniably homosexual. "I wanna show you how proud I am to be yours/ Leave this dress a mess on the floor," goes the song's chorus.
"Julia and I actually wrote the song about me dressing femme for my boyfriend. The more femme I looked, the more turned on he was," Tranter explained. "It's about embracing how fabulous we look but also how wanting to look sexy for someone else is really about owning your sexuality. All sides of it. The dominant and the submissive."
Yet the song's queerness may not be inherently clear as cooed from Gomez's lips. Learning that the lyrics feature explicitly gay sexual themes, like the erotic charge accompanying a man wearing women's clothes, feels more subversive than it should in 2016. "Stay With Me" this is not.
Tranter explains why this revelation might seem radical in a mainstream pop context. "Post AIDS, it was no longer was just shocking for a man to be feminine," he said. "It turned gayness into representing illness and death. Sex is a very important part of being a huge pop star and I think AIDS also made the pop audience more timid as to what they're willing to accept and support." 
This, perhaps, explains Smith's desire to keep things vague.
But it also explains why, on his current run, Tranter is breathing rarefied air. "I had someone interview me recently and they were like 'You said the word "queer" 7 times.' And I was like, 'Damn right, I did!' People will be like 'Oh, it's just music,' and I'm like, 'Well, no. It's my perspective and my perspective is a queer perspective. Straight people don't have to say it because their perspective is assumed.'"
On "Sorry," Tranter also brings his vantage outside the traditional cis male and female romantic binary to the world of pop radio. "We wanted to to make a song where the biggest male star in the world could be vulnerable, apologize and admit fault," he explains of his work on Justin Bieber's smash. "That's something that straight men don't normally do."
Tranter also wanted to be very clear: Being unceremoniously dubbed "Music Industry Gay Boy" aside, most of the straight people he's encountered in the music business have been incredibly supportive. The industry has entrusted him with the critical task of coaxing hits from their most profitable assets, even when he shows up in "half trans." He said he feels eternally grateful for the faith that's been placed in him.
But despite both that and the success of artists like Smith and of less prominent gay pop acts like Troye Sivan and Years and Years, there is still a bewildering dearth of queer male voices in the popular music industry.
"For Sam [Smith] to be out and to be such a major star is a huge fucking accomplishment and step forward," Tranter said. "Now if we could get an openly gay Justin Timberlake-style pop star, someone based around sexuality and edginess, that would be huge." 
When might that happen?
"God, I wish I could tell you," Tranter replied with that same knowing chortle. "The world is still very scared of a gay star. Whether it's an actor or musician or a TV host or a newscaster, they still never want to imagine that person being sexual."
In the meantime, we have people like Tranter to thank for starting to open doors in the world of mainstream pop. He is playing a crucial role, not just because he is introducing his gay experience in these mainstream hits, but perhaps more so for the revelation that his specifically queer perspective is inherently mainstream.  
"I really want queer kids to know that our experience is universal," he said of the message of his success. "The thing is, if you tell your story specifically enough, it becomes so universal. Just because you're a gay man singing an honest love song, people should know that it's about men and that they can still relate to it. I know that it's my queer perspective that's helping people make songs that the world is listening to."
February 25, 2016, 8:31 p.m.: This story has been updated.