Here's Why Organic Skincare Isn't As Beneficial As It's Cracked Up to Be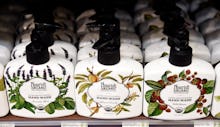 Susan Walsh/AP
When it comes to what we're putting on our face, words like chemicals, paraben and toxin often sound like face-melting nuclear waste when compared to the perceived safe word of organic. These days, organic products have taken on a reputation of providing glowing skin without repercussions. 
Like some pores, the debate over skincare products remains unclear. There are around 10,000 chemicals in our "personal care products," and most of them are considered safe at low levels. On the other hand, scientific evidence supporting organic skincare products as being healthier and more effective is lacking, and it's a possibility that natural ingredients actually do little to fight against microbial contamination, the New York Times reported.
Read more: Americans Don't Actually Know What "Organic Food" Means — But They Buy It Anyway
A true organic skincare product will have a logo meaning it's certified by the U.S. Department of Agriculture (not the U.S. Food and Drug Administration, which only focuses on safety requirements). "If you do see the logo, it means that said ingredient (or almost 100% of the ingredients in an organic product) have been grown and processed under a very strict code of cleanliness, with no pesticides or fertilizers, and absolutely no genetically modified organisms," holistic nutritionist Adina Grigore told  Harper's Bazaar. 
Organic may be beneficial when it comes to food, but has yet to be proven as the same when it's topical, Philly.com reported. The skin is an organ that might need medication and chemicals in pill, not topical form, to treat skin conditions, dermatologist Beth McLellan told Into the Gloss. "If we could put something on the surface of the skin and it was all absorbed into the bloodstream, you would never have to take pills — you could just rub medicine on your skin, but it doesn't work that way," McLellan said. The skin also protects itself naturally from toxins. 
Sometimes, companies attempt to go green and end up using obscure plant products that have yet to establish themselves as generally safe in the beauty industry, the New York Times reported. Many people are allergic to plant-based ingredients like green tea and tea tree oil, which outweighs their beneficial properties.
Skin irritation caused by lavender, rosemary and other essential oils can actually break down collagen, which negatively affects the skin's own ability to heal, according to Philly.com. 
Until more evidence surfaces, organic skin care remains a personal and ethical choice — and perhaps a good marketing ploy.