9 Cool Apps You Probably Didn't Know Existed But Should Definitely Download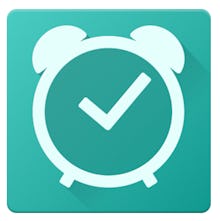 For better or for worse, the apps on our smartphones have made our lives more convenient. The app industry has also been very lucrative — according to the Wall Street Journal, sales for apps in 2013 were in excess of $25 billion. Since the market is so saturated with many different — or in some cases, similar — apps, it can be difficult to decide which ones to download. Here are nine cool apps you might have missed while swiping through the app store.
Read more: 10 Best Apps for Productivity You Can Use on Your Smartphone so You Can Never Stop Working
Morning Routine is an alarm app for people who have trouble waking up and need some extra encouragement – however harsh said encouragement may be. The app has an option where, in order to shut off the alarm, the user has to get up from their bed and scan the barcodes of household items. You'll be cranky AF, and possibly have a stubbed toe or two, but at least you'll be awake!
2. Dyce (iOS & Android)
Hanging out with indecisive friends can be exhausting, and it's only exacerbated when you're hungry or parched and no one can decide on where to eat or grab a drink. Dyce uses GPS to find the six places closest to you and then with a dice-roll, decides on where you're all going.
Another common dilemma of eating with friends is how to split the bill. A person who ordered a side salad shouldn't owe the same as someone who ordered a smorgasbord of appetizers and a entrée. Billr can help you split the bill for a party of up to 16 people, including tip, which you should do if your server had to deal with your party of 16.
4. PhotoMath (iOS & Android)
For the person having a brain-fart and needs help with arithmetic. PhotoMath can help you solve number-based equations (i.e., not written word problems), and explain how to get to the result by showing you all the steps. The only caveat is the camera's scan does not recognize handwritten equations, and the app also cannot solve more complex equations — sorry, students taking calculus.
5. Robinhood (iOS & Android)
Robinhood is a stock-trading app that allows you to trade in real-time and without the usual $10 commission fee. The app is also streamlined in that your portfolio is all in one place. You can even set up notifications for scheduled events like earnings, dividends and splits. For the skeptics: yes, it is protected by SIPC, for up to $500,000.
6. Try-It-On (iOS & Android)
For the makeup enthusiast who doesn't want to waste money buying products, or for the germaphobe who doesn't trust the disinfecting methods at Sephora. Try It On allows you to preview what your face would look like wearing a specific shade of lipstick. All you have to do is upload a photo, scan the product's barcode, and then decide whether the lipstick matches your skin-tone.
7. Scan Life (iOS & Android)
For the smart shopper who wants to get the best deal. ScanLife allows you to scan a product's barcode, and then compare which retailers will give you the best deal. 
For the imbiber who wants to keep track of all the booze they've consumed. Next Glass allows you to search and rate most labels and brews on the market. The app will then build your "taste profile" and suggest similar beers and wines.
For the jogger who needs to mix it up, Zombies, Run! turns exercise into a game of survival. Should a real zombie apocalypse happen, your lungs will be well-conditioned to run for your life.