'Black-ish' Season 2, Episode 16 Recap: Sitcom Successfully Tackles Police Brutality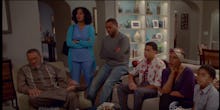 YouTube
Even in its most serious moments tackling cultural issues, ABC's Black-ish wants its audience to feel optimistic about the world — no matter how disheartening it may seem. This was perfectly encapsulated in the sitcom's latest episode Wednesday, appropriately titled "Hope," with thoughtful family dialogue centered on an oft-controversial, and demoralizing subject: police brutality. 
Yet, even with a potentially despondent tone, by episode's end, Black-ish isn't devoid of optimism. Rather, the Johnson family is arguably as intimate as they've ever been with one another in the series. 
Read more: 'Black-ish' Will Air Its Most Groundbreaking Episode Yet by Tackling Police Brutality
"Hope" begins with the family watching the events of a fictitious criminal case on television with a familiar tune — a black teen is the subject of police brutality. As a result, there are conflicting viewpoints from the parents on how to approach the topic with their kids. Dre (Anthony Anderson) believes his children should know about the harsh realities of the world, while Rainbow (Tracee Ellis Ross) wants them to have a more hopeful view of society, especially at such a young age. 
For Black-ish creator and executive producer Kenya Barris, the idea for the episode came from a conversation he had with his own family — specifically regarding the 2014 shooting of Michael Brown in Ferguson, Missouri. "Hope" doesn't focus on the riots or the indictment itself, but the conversations the Johnsons had with their children. Thus, the entire episode is isolated to the family room and the kitchen.
"This is not a politicized episode," Barris told Entertainment Weekly. "It's about police brutality that's been happening not just now; it's actually about a conversation with your kids. And the conversations that happen with your kids happen to be around a police brutality case and they decide how to talk about it. I think it's an important conversation to have with your kids." 
But the episode does use images and clips from important politicized moments from across the world to great effect. This includes going back to 1963 with the Buddhist monk Thich Quang Duc — who, in a widely publicized display of protest for the persecution of Buddhist monks, burned himself alive — all the way to signs and illustrations of the killing of Trayvon Martin in 2012.
Black-ish uses these images to correspond with the notion Dre and his father (Laurence Fishburne) bring up: These issues aren't new. Instead, with new forms of media and the internet, the general public is more aware of systemic violence and oppression than ever.
In the episode, the verdict for the fictitious case is, to nobody's surprise but everyone's disappointment, that there will be no indictment. Eldest son Junior (Marcus Scribner) wants to join the protests happening in the city, but Dre initially refuses to let him. Meanwhile, the youngest kids — twins Jack and Diane (Miles Brown and Marsai Martin, respectively) — are worried they too could be harmed by any interaction with the police. 
"Hope" isn't, however, about labeling police officers exclusively as villains. When Dre is lambasting the police as a group, Rainbow reminds him that in their neighborhood, he knows officers on a first-name basis, which cuts to a flashback of him calling an officer under his covers because he heard a noise and was concerned. It's an important moment in the guise of comedy — no, not all police are inherently bad. At the same time, though, the family concludes that officers must improve as a collective, using real-life statistics as evidence.  
Rainbow is "anti-police brutality, but not anti-police," Nichole Perkins wrote for Vulture. "If 25% of LAPD shootings are against unarmed suspects, then the remaining 75% must be armed, right? Junior points out that if she lost one 1 of 4 patients, it wouldn't be a good measure of her abilities." 
However, the most compelling sequence of the episode — and one of the best moments on television this year — is when Dre tearfully reminds Rainbow of President Barack Obama's first inauguration, when he and first lady Michelle Obama walked out of their limousine. It emphasizes the importance of the Johnsons discussing these issues with their children.
"Tell me you weren't terrified when you saw that," Dre says. "Tell me you weren't worried that someone was going to snatch that hope away from us like they always do. That is the real world, and our children need to know that that's the world they live in."
Ultimately, the Johnsons decide to go to the protests — sans the younger twins and a baby-sitting Ruby (Jenifer Lewis) — with Ruby spray-painting "BLACK OWNED" onto the garage door, a callback to the 1992 Los Angeles riots that decimated several black-owned businesses.
By the end of "Hope," fans expressed their gratitude on Twitter for the comedy tackling a tough subject, and executing it so well. 
At the very least, Barris wants "Hope" to spark important dialogue for viewers, something Black-ish has done successfully in the past. Earlier this season, the show tackled the use of the word "nigger." Black-ish has clearly hit its stride, with a seamless blend of comedy, drama and social commentary. 
"I hope nothing more than that they got some laughs, and that it sparks a conversation between them and their family or them and their friends and those conversations spread out into something else," Barris told Entertainment Weekly. "The best scenario would be that it motivates some change."