7 Healthy Lunch Ideas That Require 5 Ingredients or Less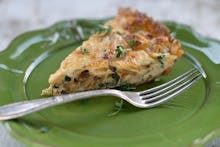 Matthew Mead/AP
Coming up with yummy, simple lunches that don't require any special ingredient can be a daily challenge — but here are some for meals to make with only five ingredients or less (most of which you might already have at home!).
Read: Your Yoga Pants Might Be Bad for Your Health
Veggie frittata
Frittatas are simple to make and delicious to eat. Try whipping up a veggie frittata with eggs, milk, spinach, onions and cheese. 
Turkey pinwheels
Roll up turkey, cheese and red peppers in a wrap for a quick and easy lunch. Feel free to add other fun toppings like greens, mayo or mustard.
Caprese sandwiches
Caprese sandwiches, made with mozzarella or grilled halloumi, fresh tomatoes and basil, are super yummy and feel way more luxurious than they are. Feel free to skip the bread and eat it as a salad instead, but don't forget the balsamic vinegar.
Hummus pita pocket
Everything tastes better stuffed in a pita! Fill up a pita pocket with hummus and fresh veggies, like peppers, parsley, olives and corn.
Yogurt parfait
As Donkey tells Shrek, everyone loves parfaits. Make your own using Greek yogurt, granola and blueberries.
Salmon and pineapple
Fresh or frozen salmon fillets are a snap to cook up in a pan or in the oven, and all you need to make them delicious is olive oil, salt and pepper. Have it with a side of cut-up pineapple, and if you're feeling fancy you can mix-in some fresh mint.
Avocado toast
Sliced avocado, salt and pepper on a toasted piece of your favorite bread is a simple way to make a delicious, Instagram-worthy meal. Bonus points if you add a dollop of Greek yogurt or a fried egg on top for protein.