This Sudanese-Australian Model Just Quit the Fashion Industry to Make a Powerful Point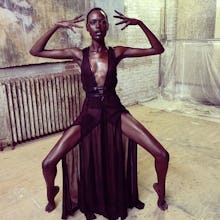 On Tuesday, Sudanese-Australian model Ajak Deng announced on Instagram she was quitting modeling because she "can no longer deal with the fakes and the lies" of the fashion industry. 
Read more: Erykah Badu Is Bringing Black Lives Matter Back to New York Fashion Week
Deng, who fled Sudan during a civil war in 2005 with her family and moved to Australia, was discovered in 2008 and has since walked the runway for Louis Vuitton, Givenchy, Christian Dior, Jean-Paul Gaultier and Thakoon, to name a few.
In her Instagram announcement, she explained her decision to retire from modeling:
"Put your best foot forward. I am happy to announce that I am officially done with the fashion industry, I will be moving back to Australia In order to live the life that I fully deserved. Which is real life. I can no longer deal with the fakes and the lies. My life is too short for this dramatic life. I am thankful and grateful for every sweet souls that I have crossed path with."
On the same day Deng posted her statement, she also shared an image with a bag emblazoned with "Black Models Matter," an accessory that's gone viral as part of a growing conversation about fashion's entrenched biases regarding race, age and size. 
Only underscoring her point was fellow model Nykhor Paul's Instagram post reacting to Deng's announcement, using the same photo but with her own commentary.
"I am sad to lose one of the most beautiful top models from my country because of these ignorant people in fashion who forgot what a fashion show consist of," Paul wrote. "We black models have to stand together and support each other without fear of losing your job or being label as the big mouth angry black person, or lose the white privileges that you now think you have because we are all going through something but are not organized to speak in unison about these nonsense!!"