The 1975 'I Like It When You Sleep': Lyrics, Streaming and Download Options for New Album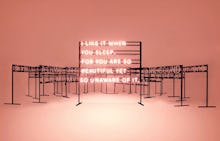 Mic/YouTube
British alt rockers the 1975 released Friday their sophomore LP, a mouthful of a record titled I Like It When You Sleep, for You Are So Beautiful Yet So Unaware of It. The album is available for download on iTunes and for streaming on Spotify. The 1975 consists of guitarist and frontman Matthew Healy, bassist and keyboardist Ross MacDonald, keyboardist and Adam Hann and drummer George Daniel; the release follows the band's 2013, self-titled debut LP.
Read more: Is The 1975 on Tour? British Band Is About to Drop Its Second Album
Prior to I Like It When You Sleep's release, the 1975 made four tracks available to the public — "Love Me," "UGH!" "Somebody Else" and "The Sound." And on Thursday, before the group delivered a live set from atop a rooftop in Los Angeles, Healy told Beats 1 radio that the latest release is "more representative of where we are now and less sprawling," compared to the debut LP, and it's a record on which Healy said he's willing to be judged. 
Lyrics: In the lead-up the the album's release, the band shared images on Instagram of what appeared to be lyrics off the record. On "A Change of Heart," Healy sings, "Are we awake?/ Am I too old to be this stoned?/ Was it your breasts from the start?/ They played a part/ For goodness sake/ I wasn't told you'd be this cold/ Now it's my time to depart/ And I just had a change of heart."
And on "UGH," a video for which the group debuted in December, Healy is fed up with coupling yet resilient. "You're the only thing that's going on in my mind," Healy sings. "Taking over my life a second time/ I don't have the capacity for fucking/ You're meant to be helping me."
"When I said I liked it better without my money, I lied/ It took a little while to recognize/ That I, I'm not giving it up again."
The lyrics to "Somebody Else" similarly touches on romantic entanglements and betray the degree of emotionalism that lives on the group's latest release. "So I heard you found somebody else," go the track's lyrics "And at first I thought it was a lie/ I took all my things that make sounds/ The rest I can do without."
"I don't want your body/ But I hate to think about you with somebody else/ Our love has gone cold/ You're intertwining your soul with somebody else."
Bringing the album to life: The 1975 has accompanied its most recent record with no small volume of visual components. Much of that has come in the form of photography that complements the record itself, which the group has shared on social media. The artwork is both electric and visually stunning, so much so that it earned its own pop-up show in London, which is scheduled to happen Sunday. 
"For their sophomore album, I like it when you sleep, for you are so beautiful yet so unaware of it, @the1975music have worked with @samuelburgess-johnson to create an exceptional array of imagery," reads a statement from the band. "We're taking over a gallery in Leicester Square to bring together the high-end sounds the band has produced, with a neon art and photography exhibit + pop up shop."
Many of the pieces boast signage with track titles from the group's LP.
Check out the track list and head here for information on how to catch the U.K. act live in action. 
I Like It When You Sleep, for You Are So Beautiful Yet So Unaware of It track list:
1. "The 1975"
2. "Love Me"
3. "UGH!"
4. "A Change of Heart"
5. "She's American"
6. "If I Believe You"
7. "Please Be Naked"
8. "Lostmyhead"
9. "The Ballad of Me and My Brain"
10. "Somebody Else"
11. "Loving Someone"
12. "I Like It When You Sleep, for You Are So Beautiful Yet So Unaware of It"
13. "The Sound"
14. "This Must Be My Dream"
15. "Paris"
16. "Nana"
17. "She Lays Down"