SeaWorld Employees Posed as Animal Rights Activists to Scope Out Its Opponents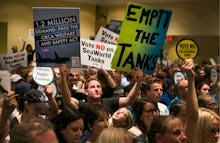 SeaWorld has officially jumped the orca. 
On Thursday, SeaWorld's CEO Joel Manby admitted that a number of the company's employees disguised themselves as animal rights activists in order to spy on opponents. 
Read more: SeaWorld Announces It's Ending Killer Whale Shows in San Diego
According to the Orlando Sentinel, Manby announced that the decision for SeaWorld employees to go undercover came from the aquarium's management. Manby claims that now SeaWorld's board of directors has instructed them to "end the practice" which "was undertaken in connection with efforts to maintain the safety and security of employees, customers and animals in the face of credible threats."
Since the 2013 documentary Blackfish exposed SeaWorld's questionable treatment of its orcas, they've faced criticism from not just activists but the general public. A year after the movie's release, the company's stock value plummeted and in 2015, SeaWorld San Diego announced they would begin phasing out the location's killer whale shows.
Last year, the People for the Ethical Treatment of Animals accused an employee from SeaWorld San Diego of posing as an activist to spy on them, according to the Sentinel report. The employee was placed on leave while an investigation was conducted and has since returned to work, but there's no word yet on whether any employees will see disciplinary action.
According to a November Sentinel piece, SeaWorld said in a statement, "While efforts to phase out whales in human care may strike an emotional chord, SeaWorld and other science-based organizations are part of the solution, not the problem."