Is Mariah Carey Going to Be on Beyoncé's "Formation" Album?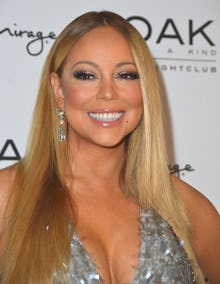 Mindy Small/Getty Images
Beyoncé is the type of artist who just casually drops a new hit single, then attends a basketball game with her husband the same day and acts as if she didn't just stop the damn world. Beyoncé released "Formation," then announced the Formation World Tour just before her epic performance at Super Bowl 50, sending fans into a panic. A major question on the BeyHive's mind: Who is the "Flawless" singer planning on recruiting for her forthcoming album?
Her self-titled 2013 surprise release included Frank Ocean and Jay Z, but rumors are swirling Queen Bey is working with Mariah Carey for her upcoming release. Carey became one of those suspected features when she and Beyoncé took a photo together while attending the Heartview Global Foundation dinner Feb. 11. Carey uploaded the photo to Instagram along with the caption, "Two girls, one cause." The rest is viral history.
Read more: Beyoncé's New Album Is Rumored to Be Dropping in April — and She May Have Another Surprise
The photo sent Twitter into a massive frenzy (of course) as the two powerhouse divas were immediately suspected of collaborating on an upcoming duet together. Although there has been no confirmation the two ever stepped foot in the studio together ahead of Bey's upcoming album, fans were already having heart palpitations.
What happened behind the scenes between Carey and Bey before the pair's angelic photograph was taken? According to TMZ, the two bid against each other for a Ray Charles portrait, then had a discussion about a possible duet — to what extent the two actually discussed working with each other, however, remains unclear. What could have been a definitive scheduling for a collaboration might also have been kind words said in passing, similar to when one sees an old high school pal and says, "Oh, yes, we absolutely must get lunch soon!" You're probably never getting lunch together.
As for now, it looks like fans will just have to see what Bey is cooking up and pray she and Carey serve up the dish everyone is hoping for.