Here's How the Internet Reacted to Facebook's Reactions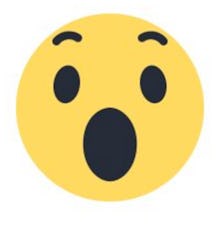 Facebook
Facebook launched its Reactions feature Wednesday as a way to more accurately express how users responded to posts; no longer will you have to "like" a friend's post about a family death. 
However, the internet's response to Reactions – or perhaps change, in general – has been divisive, but whether they were for or against it, the subsequent reactions has largely been comical and sarcastic.
Read more: Facebook Is Using Those New "Like" Emojis to Keep Tabs on Your Emotions
Many of the complaints boiled down to which Reactions were excluded. According to International Business Times, "yay" was being considered but was nixed because it wasn't "universally understood." Many publications chimed in with their own suggestions.
Illustrator Matthew Inman, better known as the Oatmeal, also chimed in with a few missing but needed reactions: