Organic Shampoo Can Help With Dandruff, but There Are Some Common Mistakes to Avoid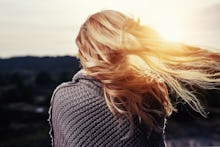 Michael Fertig/Unsplash
Not all organic shampoo is created equal. Some may make your hair fall out, others will leave your hair clean and even dandruff free, if that's your most pressing issue. Organic shampoo can help with dandruff, but it's important to understand what needs treating before plunking down a pile of cash for the wrong formula.
Read more: Glitter Roots Is the Most Magical Hair Trend for Dry Shampoo Devotees
There are many potential causes of dandruff. One is a sensitivity to yeast, which lives on everyone's skin and can get very itchy, particularly in the winter when UV light is scarce. Dry skin can contribute to a flaky scalp, as can an excess of oil (from an oil overproduction condition called seborrheic dermatitis or infrequent shampooing), certain medical conditions, diet and stress.
According to ShampooTruth.com, seborrheic dermatitis is the most common cause of dandruff; for that and for yeast, tea tree oil is a useful, natural antidote because "it has natural anti-fungal, antiseptic, and antibiotic properties that can reduce the amount of fungi causing seborrheic dermatitis." Tea tree oil is, then, a good ingredient to know when searching for an organic dandruff shampoo. In fact, it seems to be their main anti-dandruff ingredient.
As ShampooTruth reported, with so many different potential causes, it's important to identify what kind of dandruff you have so as not to aggravate the scalp further. In organic shampoos, rosemary, sage, peppermint, aloe vera and jojoba are a few ingredients that help mitigate dryness and soothe the scalp, according to ShampooTruth.
A note on sulfates: while they've developed a bad reputation in recent years, not every shampoo containing sulfates will strip or damage hair. Sulfates are detergents; they wash away oil (and dirt). 
According to Women's Health, mild detergents are effective and won't harm every hair type. Women who don't have an allergy to them, don't heavily process their hair and don't have naturally dry hair might find shampoo with sulfates to be quite useful; if dandruff is caused by a buildup of oil, a solution that cuts oil may well be effective.
What are the best organic products out there? According to Hairspiration.com, Pura d'or Anti-Dandruff Shampoo, Giovanni Cosmetics Shampoo Tea Tree Triple Treat, Paul Mitchell Tea Tree Special Shampoo and TheraNeem Gentle Therape Shampoo have all been well-received by users.