Rihanna and Drake's Grinding Brit Awards Performance Didn't Go Over Well on Twitter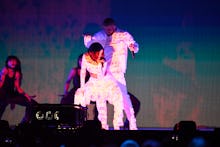 Dave J Hogan/Getty Images
Twitter seemed divided when the dust settled and Rihanna's Navy fandom quieted down after her performance Drake at the 2016 Brit Awards. The two took the stage in all-white outfits, barely singing their verses for "Work" as they danced on top of each other's undercarriages and laughed at each other's flirtatious vibes. 
It was all good and fun to watch as fans of Rihanna and Drake, who music fans have watched grow side by side — along with love affair rumors — but many expressed their opinions that the performance was lazy, and mediocre at best.
Read more: Rihanna's 'Anti' Defies Every Expectation of What a Rihanna Album Should Be
Of course, the onslaught of Rihanna's Navy would initially lead someone who hadn't watched the Brit Awards into thinking her performance was the best of the night. "Rihanna fucking SLAYED the Brit Awards," Lexie wrote on Twitter minutes after the performance, echoing Ty's similar reactio: "SO YAS RHIS IS HAPPENING RIGHT THE FUCK NOW RIHANNA DRAKE LIVE "WORK" BRIT AWARDS OH MY FUUUUUUUUUCK."
But even through the noise, the loud, loud noise, some folk were noticed the vocals and overall performance felt off:
Afterward, Twitter users pointed out how they both could have done a much better job:
Rihanna might still be getting over a sickness that forced the cancellation of her 2016 Grammys performance at the last minute, which could be part of the reason why her Wednesday night gig with Drake wasn't as stellar as some were hoping for. Luckily, RiRi's tacked on a few more weeks for recovery before kicking off her Anti World tour — clear eyes, no sore throats, can't lose.