Super Tuesday 2016: Who's Leading in Each State in the Republican and Democratic Elections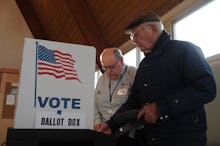 The Washington Post/Getty Images
With Super Tuesday approaching, and voters from 14 states and one territory gearing up to throw their support behind a presidential candidate, the nation will surely be paying close attention to the outcome on Tuesday. This primary-caucus cluster will be a crucial point in the election for each candidate because the large number of delegates could set the stage for a presidential nomination. 
Alabama, Alaska, Arkansas, Colorado, Georgia, Massachusetts, Minnesota, Oklahoma, Tennessee, Texas, Vermont, Virginia and Wyoming are the states participating in Super Tuesday. The full list of elections can be found here. 
Super Tuesday was conceived as "a device to keep out insurgents," presidential historian Michael Beschloss told NBC. "The idea was, you have all those primaries on one day, hard for somebody to win unless they've got a lot of money, name ID [and] organization." About 880 delegates are on the table this year, with candidates competing with one another to reach the 2,383 delegates to clinch the 2016 presidential nomination. 
Read more: Can the GOP Establishment Come to Terms With Donald Trump?
On Tuesday, Republican presidential candidate Donald Trump won Nevada's Republican caucuses, and according to current polling trends, he might clinch the nomination if he has a strong showing on Super Tuesday. Sen. Ted Cruz, who defeated Trump in the Iowa caucuses, is leading Trump in Texas, his home state. Cruz also leads his opponents in Arkansas. Trump leads in the following states: Alabama, Alaska, Georgia, Massachusetts, Minnesota, Oklahoma, Tennessee, Vermont and Virginia, RealClearPolitics reported.
Former Secretary of State Hillary Clinton and Vermont Sen. Bernie Sanders aren't quite as close in the polls. Clinton is leading Sanders in Alabama, Arkansas, Colorado, Georgia, Minnesota, Oklahoma, Tennessee, Texas and Virginia, according to RealClearPolitics. Sanders is leading in his home state of Vermont by a wide margin, and has a slim lead in Massachusetts.