Tom Hardy Is Back in First 'Taboo' Trailer — Watch the Video Here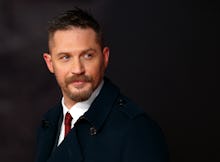 Max Mumby/Indigo/Getty Images
The first trailer for Taboo, an upcoming period-drama miniseries starring Tom Hardy, is finally here. The show, which will air on BBC One in the U.K. and on FX in the United States, is co-produced by Hardy and director Ridley Scott. 
The show will feature Hardy as James Keziah Delaney, a 19th century heir to a shipping empire who returns home after life-altering travels around the globe to take on his father's business, reports Deadline.
Read more: Tom Hardy's 5 Best Roles That Didn't Earn Him an Oscar Nomination
Taboo is still in production and is set to premiere sometime in 2017. If the first trailer, which was released Thursday by FX, is any indication, the show will be a dark and bloody adventure tale unfolding over the backdrop of 19th century British Colonialism. Also, Hardy.