Here Are 7 Healthy Breakfast Recipes That Are Perfect for When You're On-the-Go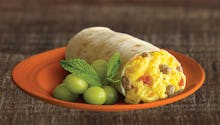 Uncredited/AP
Mornings can be rough, and making a healthy breakfast can be time consuming. It can be difficult to make an Instagram-worthy spread when you're trying to race out the door on time. 
But skipping breakfast isn't exactly "starting your day off right." Eating breakfast can actually help improve the cognitive function directly related to memory and test grades, and also helps in weight loss and lowering your risk for diabetes, Live Science reported.
Read more: 7 Healthy Lunch Ideas That Require 5 Ingredients or Less
Below are recipes that can be made the night before, or in a flash and then eaten on your commute. Either way, you'll be thanking yourself by the time you get to the office:
1. Apple mug muffin
Instead of filling up a mug with coffee, toss in ingredients like applesauce, an egg, a little bit of vanilla, almond flour and baking powder. Then just heat it in the microwave for about a minute and breakfast is served. Find the recipe here. 
2. Microwave coffee cup or jar scramble 
Another practically instant breakfast involves cracking two eggs into a jar or mug, sprinkling in some cheese and heating it up in the microwave for about 45 seconds. Find the recipe here. 
3. Freezable breakfast burritos 
Breakfast burritos are the ultimate on-the-go meal, thanks to the trusty tortilla. Cook up basically any vegetables of your choice (lentils, mushrooms and bell peppers are good choices), as well as vegan or non-vegan sausage. Then wrap it all up in the tortilla and pop it into the freezer. Relocate it into the fridge the night before and then microwave it for about 20 seconds on each side when you're ready to leave. Find the recipe here. 
4. Peanut butter mango kiwi wrap
Grab a tortilla and spread on peanut butter — or any nut butter of your choice — and sprinkle on your favorite fruit, like mangos, kiwis, bananas or strawberries. Top with chocolate or coconut flakes and wrap up for a sweet breakfast on the run. Find the recipe here. 
5. Blueberry muffin overnight oats
For an almost effortless breakfast you can grab from the fridge on your way out, just throw in some oats and toppings, like blueberries into almond milk, and let it sit overnight in a jar. The oats soak and sweeten by the time it's breakfast. Find the recipe here. 
6. Veggie egg-white bites
Make these portable egg white bites either the night before or as soon as you wake up in the morning (letting them bake as you get ready) by pouring cut-up squash and zucchini with egg whites into a muffin pan. Bake for 10 minutes and take them with you to work. Find the recipe here. 
7. Pita pocket breakfast sandwich 
It takes just a few minutes to scramble up some eggs, diced lunch meat, cheese and other quick-cooking vegetables. Then, just stuff it into a pita to eat on your way to work. Find the recipe here.