Best Netflix Movies for Couples That Could Save a Relationship — Otherwise You're Screwed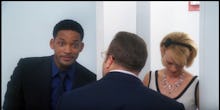 YouTube
For some reason, you're happy and in a relationship. But, also for some reason, said significant other and yourself have had problems lately. Maybe they just keep eating the food you bought specifically for yourself without asking, or maybe tensions have increased between them and your parents because they just can't seem to agree on that Donald Trump fellow. It's going downhill fast — like, Chipotle bad. However, if there's anything that can save your relationship, it's Netflix. 
The streaming service — like the dark side of the Force in Star Wars — has many abilities some consider to be unnatural. It's extremely addictive, it doesn't like to tell you about its inner workings and its consistent use as a ploy for trying to hook up with people (known colloquially as "Netflix and chill") demonstrate some of its inherent devices. Given these qualities, perhaps it could even mend fences between you and your significant other. 
Read more: Broke? Here Are Fun Date Night Ideas for Staying in That Aren't "Netflix and Chill"
Here are six recommendations to save your souls — and sorry, Pride and Prejudice won't be on the list. No really, it won't. 
Hitch: Will Smith is a professional wingman in Hitch, and he's going to try and help Kevin James (the same Kevin James who is Paul Blart: Mall Cop) snag the woman of his dreams. By the end of the film, James' character does seal the deal — and they, in true form to the title, get hitched. 
If Paul Blart can get married, you can save your relationship. What won't save your relationship, though, is watching Pride and Prejudice. 
Don Jon: The titular character in Don Jon is addicted to porn, but even so, with the help of two different women he meets, he learns what it truly means to be in a healthy relationship. Chances are, neither you or your significant other are addicted to porn — therefore, you have an inherent edge in making it through the hard times. 
Ironically, Scarlett Johansson's character is criticized by Don (Joseph Gordon-Levitt) for watching too many romantic movies, which create false expectations for love. This is true, and is something your relationship can remember amidst the slew of rom-coms populating Netflix. 
However, he did not specifically critique Pride and Prejudice, which was a mistake on his part. That film will not help your relationship. 
50 First Dates: So, if Adam Sandler can seduce Drew Barrymore literally every single day in 50 First Dates because she has a special case of amnesia where she wakes up and forgets everything that's happened since the day of her accident, you can seduce your significant other. After watching this movie, hopefully you'll find the concept of seduction (and date ideas!) a lot easier, because presumably, that person will remember what you do. 
Also, if the title wasn't already an indication, it's totally not Pride and Prejudice — though that wouldn't help your relationship at all. 
Adventureland: It's a coming-of-age story set in a theme park, which is pretty cool. Adventureland also paints Kristen Stewart as a troubled stoner, which — depending on your opinion of her and her facial expressions — is either the perfect role or a complete miscast. 
Furthermore, it will certainly inspire nostalgia with its 1980s setting. You know what can't? Pride and Prejudice. It isn't set in that time. 
Amelie: Do you want to seem really cultural? Watch a foreign film with that special someone. Amelie is a great choice, because not only is it a foreign film, it's a positive and somewhat whimsical representation of Paris. In the film, the titular character Amelie decides to make it her mission to help people she encounters happier, and discover love. Maybe by watching the film, Amelie will help repair your own life — just as she would've wanted. 
Also, it is set in France, and Pride of Prejudice isn't. Seriously, that film can't do anything right and should not be watched on the streaming service.  
Pride and Prejudice: OK, fine. It's on the list. Here's the trailer. But this is at the expense of your relationship.
I'm not sure how the compelling, rich tale about the boundaries of the social class system in 18th century England in the lens of two unlikely, would-be lovers — Mr. Fitzwilliam Darcy and Elizabeth Bennett — will be of any benefit to you. Rather than focusing on social standing and wealth, the film adaptation of the Jane Austen novel demonstrates that true love can withstand any obstacles. 
Perhaps this is why the theme still permeates today — making the relationship work despite the turmoils that life brings, while recognizing the faults of the other person, and most importantly, accepting them for it. 
Ugh.