Bernie Sanders' Celebrity Supporters Now Include DJ Diplo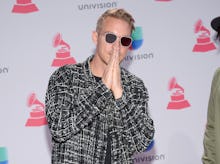 Powers Imagery/AP
Democratic presidential candidate Bernie Sanders has nabbed a new celebrity endorsement — Diplo, the DJ and producer who has worked with everyone from Justin Bieber to Madonna to Usher, tweeted out his support for Sanders last week. 
We're not sure why he's threatening to stay in India until 2018 — because the next presidential election would be in 2020, but losing Diplo would definitely be tough on all of us.
Read more: Anti-Establishment Bernie Sanders Is Learning to Play the Establishment's Game
Diplo isn't the first celeb musician to voice support for Sanders — Killer Mike, Steve Aoki and the band Vampire Weekend have all come out in Sanders' favor, Billboard reports.