Brie Larson Wins Oscar for Best Actress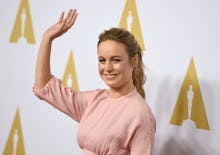 Jordan Strauss/AP
Brie Larson just won her first Oscar for best actress at the 88th Academy Awards. Larson's role in Lenny Abrahamson's Room beat out stiff competition from Cate Blanchett in Carol, Saoirse Ronan in Brooklyn, Jennifer Lawrence in Joy and Charlotte Rampling in 45 Years.
Read more: The Worst Best Picture Oscar Snubs: 2000 to Present
In Room, Larson plays Joy "Ma" Newsome, a mother forced to raise her 5-year-old son in a 10-by-10 shed for fear of her kidnapper and rapist — the biological father of said son.
The Hollywood Reporter's Todd McCarthy lauded Larson, saying she "expand[s] beyond the already considerable range she's previously shown with an exceedingly dimensional performance in a role that calls for running the gamut." The Atlantic's Sophie Gilbert praised Larson's performance for being "restrained but tightly coiled, practical and maternal, but also unpredictable."
Larson first rose to prominence for 2013's critically acclaimed Short Term 12, but had a steady career in television prior to that, appearing in Raising Dad and United States of Tara. Larson also appeared in Amy Schumer's 2015 comedy, Trainwreck.
Heading into the ceremony, Larson was the heavy favorite to take the prize, having won the equivalent acting award at the Golden Globes, the Screen Actors Guild, the National Board of Review, as well as a slew of critics circles and associations.
Room also received three other Oscar nominations for best picture, best director and best adapted screenplay.