Kesha News: Sony Says it Can't "Terminate" Contract Amid Dr. Luke Rape Allegations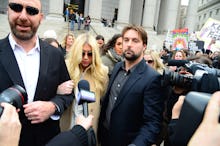 Raymond Hall/Getty Images
On Monday, amidst the legal and media whirlwind surrounding pop star Kesha, Sony Music spoke up. Sony attorney Scott Edelman said the music company is unable to free Kesha from her six-record-long contract with its subsidiary Kemosabe Records, which is owned by her longtime producer and alleged abuser Lukasz "Dr. Luke" Gottwald, according to the New York Times. 
"Sony has made it possible for Kesha to record without any connection, involvement or interaction with Luke whatsoever, but Sony is not in a position to terminate the contractual relationship between Luke and Kesha," Edelman said, according to the New York Times. 
But Sony cannot legally end the deal itself because it was made through Dr. Luke's production company, Kasz Money Inc. Sony claims to be "doing everything it can to support the artist," despite being "legally unable to terminate the contract to which it is not a party."
Read more: Why Kesha Can't Escape Her Contract With Producer Dr. Luke Amid Rape Allegations
Sony's statement follows the rejection of Kesha's preliminary injunction to break free of Dr. Luke, as well as his tweets on Monday in which he addressed the rumors, denying the rape allegations.
Also on Monday, Kesha posted a public letter on Facebook to her supporters, which includes her fans and other music artists like Adele and Taylor Swift. "All I ever wanted was to be able to make music without being afraid, scared, or abused," she wrote. "This case has never been about a renegotiation of my record contract — it was never about getting a bigger, or a better deal. This is about being free from my abuser. I would be willing to work with Sony if they do the right thing and break all ties that bind me to my abuser."