Everything You Missed in the Last Republican Debate Before Super Tuesday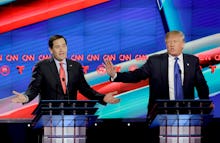 Republicans sparred at their 10th presidential debate of the 2016 cycle on Thursday night, amid a mounting sense that frontrunner Donald Trump's nomination is all but inevitable.
After Trump bounced back from his loss in the Iowa caucuses to claim New Hampshire, South Carolina and Nevada, all eyes were on chief rivals Florida Sen. Marco Rubio and Texas Sen. Ted Cruz to see whether they would forcefully attack the billionaire tycoon at the Houston event — or whether Rubio and Cruz would simply go after each other, hoping to box out the anti-Trump competition.
Mic rounded up the most notable moments below.
1. Rubio was in attack mode from the very beginning.
Adopting an aggressive tack against the frontrunner, Rubio slammed Trump on immigration, one of Trump's signature issues.
The Florida senator, who helped spearhead the 2013 push for comprehensive immigration reform, noted that Trump blamed GOP nominee Mitt Romney's 2012 defeat on Romney's call for the "self-deportation" of undocumented immigrants. Rubio also highlighted a New York Times investigation detailing Trump's hiring of foreign workers at his Mar-a-Lago estate in Palm Beach, Florida.
"In 2011, he talked about the need for a pathway to citizenship. In 2012, Donald criticized Mitt Romney, saying that mitt lost his election because of self-deportation," Rubio laid in. "And even today, we saw a report in one of the newspapers that Donald, you've hired a significant number of people from other countries to take jobs that Americans could have filled."
Trump fired back by saying he'd only attacked Romney for losing an election he should have won, and that during "prime season" in Palm Beach, Florida, it was difficult to find American workers to hire.
"You're only person on this stage that's ever been fined for hiring people to work on your projects illegal," Rubio pressed on.
"No, no, I'm the only one at this stage that's hired people," the billionaire businessman responded. — Luke Brinker
2. Trump said he had more friends than Cruz.
Trump took aim at Cruz's lonely status within his own party, and described his own past of getting along with politicians in both parties as a political virtue.
"I've had an amazing relationship with politicians — with politicians, both Democrat, Republican, because I was a businessman. As one magazine said, 'He's a world-class businessman, he was friendly with everybody,'" Trump said. "I got along with everybody, you get along with nobody. You don't have one Republican senator, and you work with them every day of your life ... but you don't have one Republican senator backing you, not one."
"You should be ashamed of yourself," he continued.
In a primary season that has consistently been highlighting the ever-widening ideological gulf between the parties, Trump's pride in cutting deals with different kinds of people was a refreshing moment. — Zeeshan Aleem
3. Rubio said Trump would be "selling watches in Manhattan" if he hadn't inherited his father's fortune.
Rubio didn't confine his attacks to policy. After Trump depicted Rubio as a creature of special interests and lobbyists, Rubio shot back that Trump was the pampered son of a millionaire real estate developer — and would be a watch-seller but for Fred Trump's fortune.
"Here's a guy who buys a house for $179,000 and sells to it a lobbyist who's probably here for $380,000 and then legislation is passed. You tell me — this guy!" Trump exclaimed.
"Here's the guy that inherited $200 million," Rubio said. "If he hadn't inherited $200 million, you know where Donald Trump would be right now, selling watches in Manhattan."
"No, no, no, that is so wrong," Trump responded. "We'll work on that. I took $1 million and I turned it into $10 billion. I borrowed $1 million." — Luke Brinker
4. Rubio said Hillary Clinton was veering toward socialism.
In an attempt to summarize the difference between the Republican Party and the Democratic Party, Rubio described the GOP as defenders of free enterprise and said Democrats — including Clinton — were fans of socialism.
"The most powerful sentiment in the Hispanic community, as it is in every immigrant community is the burning desire to leave your children better off than yourself — and you can only do that through free enterprise," Rubio said. "That's what we stand for — not socialism, like Bernie Sanders and, increasingly, Hillary Clinton."
The idea that Clinton, a candidate who is deeply connected with Wall Street and has served on corporate boards, could be described as sliding toward socialism was noteworthy. While Clinton remains a far cry from anything that could be reasonably characterized as socialist, she has been pulled to the left on a variety of economic issues by Sanders' populist campaign. 
Rubio's criticism was a reminder of the way in which primary seasons tend to pull candidates away from the center, and reinforce the kind of polarization that's been creating political dysfunction in Washington for years. 
— Zeeshan Aleem
5. Carson: "The fruit salad of their life."
In describing his search for the ideal Supreme Court justice, Ben Carson said that "the fruit salad of their life" would be the best indicator of their fitness for the high court.
"As president, I will go through and I will look at what a person's life has been, what have they done in the past, what kind of judgments have they made? What kind of associations do they have? That will tell you a lot more than an interview will tell you — the fruit salad of their life is what I will look at," he said. — Zeeshan Aleem
6. Rubio turned the tables and attacked Trump for "repeating himself."
Three weeks after Rubio flopped in a New Hampshire debate where he mechanically repeated an attack on President Barack Obama — a performance that many observers blamed for Rubio's disappointing fifth-place finish in New Hampshire's primary — the Florida senator relished the chance to attack Trump for repeating himself.
After Trump said multiple times that allowing carriers to sell health insurance across state lines would bring in "competition," but evaded Rubio's question about what else Trump would do on health care, the senator pounced.
"Now he's repeating himself!" a grinning Rubio exclaimed.
When Trump shot back that Rubio "repeat[ed] himself five times four weeks ago," Rubio was ready.
"I saw you repeat yourself five times four seconds ago." — Luke Brinker
7. Cruz crystallized his central argument against Trump.
Cruz, who's positioned himself as the truest conservative in the race, made a flat-out play to paint Trump as unelectable against a Democrat.
"How do we nominate a candidate who has said Hillary Clinton was the best secretary of state of modern times, agreed with her on foreign policy, agreed with Bernie Sanders on health care, agreed with Barack Obama on the Wall Street bailout?" Cruz demanded.
"We can't win this election with a candidate who agrees Hillary Clinton and can't take it to her and beat her on the debate stage and at the polls," Cruz said.
Trump looked pretty entertained by that one: "First of all, talking about the polls, I'm beating him awfully badly in the polls," he said of Cruz.
"But you're not beating Hillary," Cruz said.
"Hey, if I can't beat her, you're really going to get killed, aren't you?" Trump shot back.
RealClearPolitics polling averages show Trump trailing Clinton by 2.8 percentage points and Cruz ahead of Clinton by 0.8% in hypothetical matchups. — Celeste Katz
8. Trump said taking strong sides in the Israeli-Palestinian conflict could be ineffective.
When asked about comments in the past in which he said that assigning blame for the Israeli-Palestinian conflict was not helpful, Trump strived to describe himself both as "pro-Israel" and a negotiator who thinks taking sides too forcefully can undermine a peace deal.
"There is nothing I would rather do than to bring peace to Israel and its neighbors generally," Trump said. "I think it serves no purpose to say that you have a good guy and a bad guy."
Trump said it was possible to be a supporter of Israel without tearing down its rivals in the region aggressively.
"I'm very pro-Israel, more than anybody on the stage, but it doesn't do any good to start demeaning the neighbors because I would love to do something with regard to negotiating peace, finally for israel, and for their neighbors," Trump said. "As a negotiator, I cannot do that as well if i'm taking big, big sides. With that being said, I am totally pro-Israel."
Trump's concern with being somewhat even-handed represents a sharp departure from the Republican Party's line on Israel, which is to unconditionally back its most hawkish stances and harbor constant suspicion of its neighboring states. — Zeeshan Aleem
9. *unintelligible yelling*
Good night!
Get the five stories that will challenge you to rethink the world by signing up for MicCheck Daily.