Marco Rubio Unloads on Donald Trump in Houston GOP Debate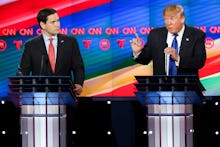 They say everything's bigger in Texas. When it came to debate fireworks Thursday, the adage held true.
Florida Sen. Marco Rubio fired up the attack machine in Houston, unleashing a torrent of attacks on frontrunner Donald Trump in the 10th Republican presidential primary debate.
The Florida senator, who's been criticized for hanging back and letting his rivals duke it out with Trump, came loaded for bear.
"If he builds the wall the way he built Trump Towers, he'll be using illegal immigrant labor to do it," Rubio said after the debate moderators asked about a U.S.-Mexico border wall.
"Such a cute sound bite," Trump responded.
"It's not a sound bite. It's a fact," Rubio said. "Go online and Google it."
Men on a mission: Each man came into the CNN-sponsored Texas debate with a mission.
Trump, fresh off a triple crown of wins in New Hampshire, South Carolina and Nevada, took the stage with a need mainly to avoid missteps, parry attacks and keep his cool in the last debate before Super Tuesday. 
The stakes were higher for Rubio, who was racing the clock to overshadow his fellow senator, Texas Sen. Ted Cruz, and position himself as the party's best chance of knocking Trump out — and winning in November.
The two sparred in some of the most personal — and policy grounded — exchanges of the debate circuit.
"Here's the guy that inherited $200 million. If he hadn't inherited $200 million, you know where Donald Trump would be right now? Selling watches in Manhattan," Rubio suggested.
But Trump wasn't interested in any lip from Rubio, saying his business credentials and personal wealth speak for themselves, "I took $1 million and I turned it into $10 billion."
When Rubio took a swing at Trump's history of hiring in Florida, the frontrunner again hit back, telling his foe, "I've hired tens of thousands of people over my job. You've hired nobody. You've had nothing but problems with your credit cards, et cetera."
Rubio even riffed on his own disastrous New Hampshire debate turn while repeatedly demanding Trump explain his plan to reform health care beyond saying he's got a plan.
"I watched him repeat himself five times four weeks ago," Trump cut in, mocking Rubio's broken-record performance in that early February showdown.
"I saw you repeat yourself five times four seconds ago," Rubio responded.