Sheryl Sandberg Shared This Indian Ad That We Can All Learn a Thing or Two From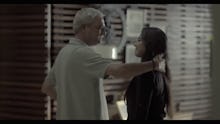 On Thursday afternoon, Facebook COO Sheryl Sandberg posted a video on (surprise, surprise) Facebook of an Ariel detergent ad — part of the #ShareTheLoad campaign — for Indian consumers. People are loving it because of the way it's flipping the script. It's had almost 150,000 shares in less than 24 hours and nearly six million views. 
The ad is narrated by a father reading a letter to his grown daughter while he watches her run her household as a working mother: sending emails, taking a work call, making chai, preparing dinner, washing her idiot husband's green shirt and, of course, doing laundry. 
Read more: Men Are Finally Doing Their Own Damn Laundry
He apologizes to her for not having set a better example regarding gender roles and family duties. "I never helped your mother either," the father's voiceover says. "And what you saw, you learned. Your husband must've learned the same from his dad."
And Sandberg, the author of the mega-bestseller Lean In, said she was deeply moved by it. "This is one of the most powerful videos I have ever seen — showing how stereotypes hurt all of us and are passed from generation to generation," she writes in her post.
"The real win is the way they are changing stereotypes and showing that a more equal world would be a better world for all of us," she later adds. 
Women across the world "bear disproportionate responsibility for unpaid care work," United Nations Women explains. In the European Union alone, 25% of women cite "care and other family and personal responsibilities" for why they cannot do paid work as opposed to just 3% of men. And a report by consulting firm McKinsey estimates that women in India do ten times more unpaid work than men. 
Society's refusal to legitimize this work has detrimental implications for women, who are often disempowered as a result, and children (ample research shows that when women are in charge of household finances, more money is spent on children's needs). 
And while a recent study suggests that things may be changing for the better, at least over here, there's still a lot of work to do. Housework, that is. For men.