Donald Trump Defends Planned Parenthood Even Though He Still Wants to Defund It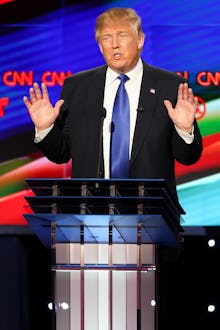 Presidential hopeful Donald Trump embodies and promotes plenty of contradictions. But during Thursday night's GOP debate, the candidate made a statement that was not only blatantly contradictory, but potentially detrimental to countless Americans.
"Millions and millions of women — cervical cancer, breast cancer — are helped by Planned Parenthood," Trump said during the debate, before concluding that he would "defund it because of the abortion factor."
This isn't the first time Trump has said he would defund Planned Parenthood. In April, Trump said he was "totally against" the organization's "brutal" abortion services, while acknowledging that "a lot of women are helped" by it, according to the Hill. On Sunday, Trump similarly told Chuck Todd of NBC's Meet the Press, that he would defund the organization despite his female friends' understanding and apparent support of Planned Parenthood, the Huffington Post reported.
The candidate's threat may be hypothetical, but hits on a dire reality: Legislators have already begun to defund Planned Parenthood on the state level. On Sunday, Ohio Gov. John Kasich signed a bill largely defunding Planned Parenthood in his state. Although a recent New England Journal of Medicine report demonstrated that defunding Planned Parenthood would deny countless women basic preventative health care, states including Louisiana, Indiana, Arizona, Arkansas and Alabama have moved to do just that, according to MSNBC.
But beyond being contradictory, Trump's statement is also illogical. As Mother Jones pointed out, the Hyde Amendment has withheld federal funding for abortion except in cases of rape, incest and life endangerment for decades: No federal funding is currently directed or foreseeably will be directed to Planned Parenthood for abortion services. Essentially, Trump is vowing to defund this organization as punishment based on his personal beliefs rather than as a decision made about federal funding.
But at least Trump got one thing right: Planned Parenthood benefits countless Americans. The organization estimates that it prevents 516,000 unintended pregnancies each year by providing contraception, in addition to providing nearly 400,000 Pap tests and nearly 500,000 breast exams annually. Planned Parenthood also teaches 1.6 million students sex education every year — an effort that successfully delays sex for both male and female students by the end of 8th grade, Time reported.
Perhaps during the next debate Trump can focus on this part of his statement alone, and shock and horrify his conservative running mates rather than millions of Americans concerned for access to basic health care.
h/t Think Progress