Kelly Clarkson's Emotional 'American Idol' Performance Had Judges in Tears — Video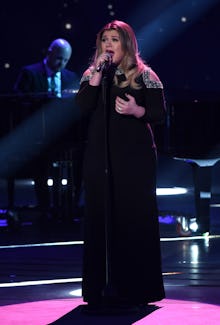 FOX/Getty Images
Kelly Clarkson, the first winner of the reality singing competition show American Idol, returned to the show again on Thursday for a stint as a guest judge on Idol's final season (and for what was likely her last appearance on Idol).
A very pregnant Clarkson (her due date's in seven weeks, she said during the show) took the stage at the end of the night to perform her song "Piece by Piece," and that's when things got really emotional.
Read: The Secret Meaning Behind Coldplay, Bruno Mars and Beyoncé's Halftime Performance
While Clarkson was singing, she just couldn't hold back the tears. She even had to lean away from the mic and whisper "sorry." Judges Keith Urban and Jennifer Lopez had tears streaming down their faces, the audience was on their feet — it was a night of pure, Ryan Seacrest-infused Idol emotion.
No matter who wins this final season of American Idol, in our hearts, Kelly always holds the crown.