Razzie Awards 2016: Full Preview, Start Time and How to Watch Awards Show Online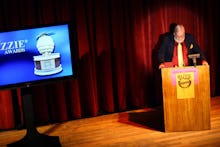 Tommaso Boddi/Getty Images
Serving as the antithesis of the 2016 Academy Awards, the 36th annual Razzie Awards will highlight the absolute worst in film for the year — and boy was it a rough year for the industry. The awards show that nobody wants to be a part of will be presented the day before the Oscars, at the Palace Theatre in Los Angeles. 
For those of you who can't make the event in person, but still want to see if notorious drama-erotica Fifty Shades of Grey sweeps the majority of the categories, the Razzies are also accessible online. 
Read more: The Shameful Razzie Awards 2016: Predictions for Every Major Category of the Worst Movies
This year, there are 10 categories at the Razzies, nine of which an actor or filmmaker would never want to be a part of. The only exception to the rule is the "Razzie Redeemer Award," which as the name suggests, awards an actor or director who had won a Razzie previously but has since reclaimed their Hollywood dignity. This year, Elizabeth Banks is up for the award, following up a Razzie win for Movie 43 with directing the much more successful Pitch Perfect 2, in addition to Sylvester Stallone, Will Smith and director M. Night Shyamalan.
The rest of the categories — all of which are pleasantly shameful — are as follows: 
Worst Picture
- Fantastic Four
Worst Director
- Andy Fickman, Paul Blart: Mall Cop 2
Worst Actor
- Johnny Depp, Mortdecai
Worst Actress
- Katherine Heigl, Home Sweet Hell
Worst Supporting Actor
- Chevy Chase, Hot Tub Time Machine 2 and Vacation
Worst Supporting Actress
- Kaley Cuoco, Alvin & The Chipmunks: Road Chip [Voice Only] and The Wedding Ringer
Worst Screenplay
- Simon Kinberg, Jeremy Slater and Josh Trank, Fantastic Four
Worst Rip-Off or Sequel
- Alvin & The Chipmunks: Road Chip
Worst Screen Combo
- All four "Fantastics," Fantastic Four
Among the most shameful nominees, the aforementioned Fifty Shades of Grey, along with Paul Blart: Mall Cop 2, Pixels and Jupiter Ascending have the most nominations, with six each.
For those who want to watch the awards show online, the Razzies' official YouTube channel will be live streaming the event, and can be accessed here. Additionally, the Razzies will be post updates during the show on their Facebook page and Twitter account. 
It's certainly not as glamorous as the Oscars, but as always, the Razzies will not disappoint with its cheeky takedowns (mostly to much-maligned Razzie regular Adam Sandler) and sub-five dollar trophies. Enjoy the show.