Ariel Winter Wrote About Breast Reduction for 'Time': "I Was Uncomfortable and Unhappy"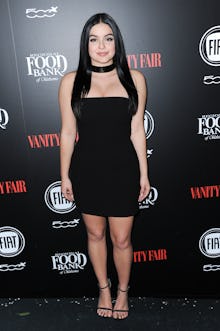 On Wednesday, Modern Family star Ariel Winter set the record straight on her decision to have breast reduction surgery in a column for Time.
The 18-year-old actress had the surgery on June 4, which she has discussed publicly in the past, and has repeatedly made it clear that, while the sudden growth of her breasts came with hyper-sexualizing tabloid headlines and negative social media attention, the decision was for her and her alone.
Read more: 9 Teen Stars Who Are Showing Adults What Being Famous in 2016 Should Look Like
"People may find it hard to believe, but when I got my breast-reduction surgery last year, it wasn't because of the mean comments online," she wrote. "I even started getting messages from older male fans, and let's just say they were gross."
"It wasn't because I didn't like how I looked. Having so much weight on my frame was affecting me psychologically. I was uncomfortable and unhappy. I chose surgery because of how I felt, not because of what anyone else thought."
Winter has been vocal about the sexualization women face, and the importance of women taking ownership over their bodies. In November she addressed the crass and predatory Instagram comments that followed a picture of herself in a bikini with her nieces.
Preach on, Ariel. We're still listening.