4 Dead and 10 Critically Injured After Gunman Opened Fire in a Kansas Factory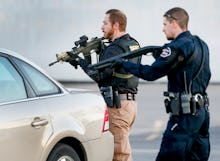 Three people were killed by a gunman Thursday before police shot the assailant dead inside a lawn equipment factory in Hesston, Kansas.
The shooter — who also injured 14, 10 of them critically — was confirmed by authorities to be factory employee Cedric Ford, CNN reported. The victims were said to be targeted randomly.
Read more: Sandy Hook Senator Just Summed Up the Reality of Sending "Thoughts and Prayers"
"He was a mellow guy," Matt Jarrell, a painter at Excel Industries, told local outlet KSN TV. "He was somebody I could talk to about anything."
The shooting began in nearby Newton, Kansas, with Ford shooting at people from a car while he made his way up the state's Highway 81, officials said.
"There was a report of a stolen vehicle. That vehicle was the person that got shot. The shooter went on into Excel Industries. Once he got to Excel Industries, he shot a person in the parking lot, and he entered into the building itself," Harvey County Sheriff T. Walton said in a press conference, according to KSN TV. "Inside the building he shot a total of 15 people."
Kansas' Republican Gov. Sam Brownback offered his condolences and included the now-familiar assurance of his "thoughts and prayers." 
News of the shooting roughly coincided with the 10th Republican presidential debate, the last matchup of the candidates before Super Tuesday. As a result, much of the breaking coverage was drowned out during the Donald Trump-Marco Rubio-Ted Cruz cage match.
The lack of reportage bears more than a passing resemblance to the Saturday shooting rampage in Michigan that left six dead, but did not even merit a mention on any of the Sunday talkshows.