Zayn Malik Dropped a New Video for "It's You" — But You Have to Pay for It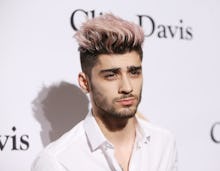 Michael Tran/Getty Images
Former One Direction member Zayn Malik released the new music video for his song "It's You" at midnight Thursday. But, so far, the video is only available on iTunes and costs $1.99 to download. 
"It's You" is a follow-up to the singer's first single, "Pillowtalk." When it was released in January, "Pillowtalk," debuted at No. 1 on Billboard's Hot 100 chart.
Read: Zayn Malik's "Pillowtalk" Has Already Done Something One Direction Never Could
Earlier this month, Malik performed "It's You" for the first time during an appearance on The Tonight Show Starring Jimmy Fallon, reported Billboard.
Malik's debut solo album will drop March 25. The music video for "Pillowtalk" has already racked up more than 130 million views on YouTube, and Malik is likely hoping that those same eager fans will be willing to pay to download his newest music video.
Malik's tweet, from Thursday, of a teaser clip of the "It's You" video has been retweeted 80 thousand times as of Friday morning.
The video for "It's You" is available for download here.