5 Best Dating Apps For Broke College Students That Aren't Tinder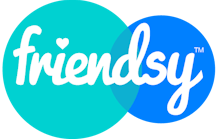 For better or for worse, Tinder is a dating app popular among college students. Testimonials reported by USA Today seem to suggest that dates resulting from the matches on the app, much like those initiated through physical person-to-person interactions, can go either way. 
Part of the Tinder charm is its simplicity – swipe right if you're interested, and left if you're not – but that simplicity can be a double-edged sword, resulting in superficial matches. Another explanation for the app's popularity might be due to the fact that it's free; college students are already bogged down with student loan debt, so much so, that the crushing weight of monthly loan payments come before finding love (or something like it). However, Tinder isn't the only free dating app on the market; here are five equally free and convenient dating apps geared toward college students.
Read more: There's Finally Something More Annoying Than Unsolicited Dick Pics on Tinder
Friendsy has been billed as the "Tinder for college students" because you need a .edu email in order to become a member – in that sense, TechCrunch notes that Friendsy is "Tinder meets vintage Facebook."
Similar to Tinder, swiping left means you're not interested, but swiping right prompts a user to choose either to friend, date or hook up.
Furthermore, unlike Tinder, users can filter searches – from class year to gender to even college major.
Coffee Meets Bagel is built on the idea of everyone's favorite quick date idea: grabbing a coffee. "Most of our members are busy young professionals," the creators of the app write on their website. "We know that one thing everyone looks forward to daily is coffee breaks."
Connect with Facebook, and every day at noon, the app will send you a prospective match, prompting the user to like or pass. Coffee Meets Bagel also prides itself on being discreet, you're not likely to ever match with your direct Facebook friends. 
"Why should we go on dating websites when we meet so many new people every day, in real life?" the founders write on their website.
Unlike Tinder and similar apps which shows you all user profiles within a designated radius of your location, Happn takes GPS a little further by showing you all the users you've physically walked past throughout your day. Profiles are organized by time and place of your encounter and if you like a user, you can secretly like their profile – they won't find out unless there is mutual interest.
How About We has a very simple premise: user profiles consists of a date idea. The creators of the app emphasize "OFFline dating," discouraging the typical back-and-forth chats that occur via mobile devices. "Just say what you want to do, find someone who wants to go (or let them find you), and get offline," they write on their website.
Date My School promotes a safe, private way for users to meet other students with similar interests through screening and verifying profiles. Only undergrads, graduate students, and alumni that fit your criteria – age, department or major, affiliated institution – will be able to view your profile.