Mexican Ex-President Said He Isn't Going to Pay for Trump's "F*cking" Wall — On Live TV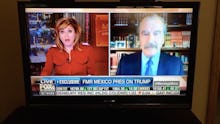 Here's former Mexican President Vicente Fox, dropping the F-bomb on Friday's episode of Mornings With Maria. 
The two were in the midst of a discussion about Republican presidential candidate Donald Trump's proposed U.S.-Mexico border wall that Trump said would be funded by the Mexican government. Naturally this prompted an impassioned response from Fox. 
"I am not going to pay for that fucking wall. I am not," Fox told host Maria Bartiromo. "[Trump] should know that, and I am not going to apologize."
Read more: In a Rebuke to Trump, Univision Launches Plan to Register 3 Million Latino Voters
Bartiromo's look of shock suggested she'd never heard anything so profane before. Then she tweeted about it. 
And then she retweeted her own shocked "my virgin ears" face:
The Fox-Trump tension has been brewing for some time now. During Thursday night's Republican primary debate in Houston, Trump responded to Fox's comment, which he expressed during a Fusion interview published earlier in the day. "The wall just got 10 feet taller, believe me," Trump said, according to ABC.
Trump has received flack for his stance on immigration, Mexico in particular, since the launch of his campaign in June, during which he said of Mexican immigrants, "They're bringing drugs. They're bringing crime. They're rapists."
The following month he said Mexican immigrants carry "infectious diseases." These are just some of the quotes and stunts he's pulled to strike fear in the hearts of America's xenophobic contingent.
But it would seem Trump has now run into a formidable opponent of anti-Mexicanism — one who's not afraid to swear on live television. 
The GOP frontrunner might've just been trumped by former President Fox. 
March 3, 2016, 2:55 p.m. Eastern: This story has been updated.
Correction: March 3, 2016