This Jon Snow Parody Music Video Is Necessary Viewing for All 'Game of Thrones' Fans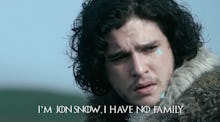 Mic/YouTube
It's not easy being Jon Snow. Over the course of HBO's Game of Thrones series, a bunch of bad things happen to him and he's always cold — which is something this hilarious (and sometimes NSFW) Jon Snow music video gets exactly right.
The music video, made by YouTubers The Riben Collective and set to the tune of Third Eye Blind's '90s classic "Semi-Charmed Life," runs through basically every terrible plot twist that is inflicted upon Jon Snow over the course of the Game of Thrones series.
So, warning, there are major spoilers in it. Like this one:
But when Jon Snow's life is all laid out to the tune of a classic pop punk song, it's pretty clear that there are more questions than answers, like what's going to happen to Jon Snow next season? And why is George R.R. Martin so cruel to us?
But honestly, the best thing about this awesome video is that it doubles as a refresher on everything that happened to Jon Snow through the series so far. So basically, you need to watch it before Game of Thrones comes back.