The 1975 Album Release: Reviews, Reaction and How to Listen to 'I Like It When You Sleep'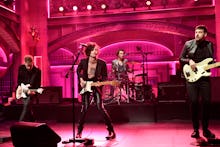 NBC/Getty Images
The 1975 are hard to pin to a specific genre, and yet, with their second studio album, painstakingly titled I Like It When You Sleep, for You Are So Beautiful Yet So Unaware of It, the group is the embodiment of rock 'n' roll from eras past infused with a synthpop emphasis. 
It's not perfect, and it jumps around quite a bit in tone and direction, but the general consensus for the band's impression on listeners is exemplified in a tweet during their Feb. 6 performance on Saturday Night Live. 
Similarly, critics have had their own mixed feelings with regard to the I Like It When You Sleep, which can be downloaded now on iTunes and will be available to stream on Spotify in March. 
Read more: The 1975 'I Like It When You Sleep': Lyrics, Streaming and Download Options for New Album
In a review for the A.V. Club, Annie Zaleski described the album's tonal shifts as surprisingly effective — and broadly — the unsteadiness is in part why I Like It When You Sleep works so well. Certainly, much of the credit goes to lead vocalist and guitarist Matt Healy. 
"In the hands of other bands, this slippery focus might feel like genre whiplash or a bait-and-switch," Zaleski wrote. "Yet the album coheres shockingly well, thanks to smart sequencing and the vocal progression of frontman Matt Healy: He's no less larger-than-life on I Like It When You Sleep —his romantic fumbles and inner mental turmoil are fair game — but he's much better at modulating his voice to match each song's emotional timbre." 
Conversely, Laura Snapes at Pitchfork — who gave I Like It When You Sleep a 6.5 out of 10 — wrote that the group are now embracing the "look, feel, and requisite huge teen girl fanbase of a boy band," for better or worse. As a result, they're ditching their previous "laddy machismo."  
"The 1975 don't wear matching suits or sell branded trinkets to the under-10s, yet after years of playing to nobody, they became a boy band by virtue of a voracious social media fanbase — not that they seemed happy about it at first," Snapes wrote. 
Additionally, Jamieson Cox at the Verge highlighted Healy and the group's commitment to erratic, but well-executed tunes, defining the group as "Carly Rae Jepsen crossed with M83, but fronted by one of the Gallagher brothers."
"Healy might strike out with half of these songs, but his gumption is still refreshing in a climate where the world's biggest rock band was happy coughing up two-thirds of its Super Bowl halftime show to Beyoncé and Bruno Mars," Cox wrote. 
Fans and fellow artists on Twitter, however, had overwhelmingly positive reactions to I Like It When You Sleep. This could, in part, be attributed to the fact that The 1975's most ardent supporters would have taken the lengths to listen to it (especially since it's not on Spotify until March) rather than their skeptics. 
Of course, I Like It When You Sleep is just the British alt rockers' second studio album, and thus, the group's style is continuing to evolve. However, true to their name, it appears most of all they're embracing the eras of rock and 80s synthpop of decades past more than ever before. 
"If rock music is to exist at all anymore, it needs to find ways to rebel against the current moment," Lindsay Zoladz wrote for Vulture. " ... Love them or hate them, the 1975 are finding modern ways to piss people off. And that's rock and roll, baby."