Marco Rubio Ridicules Donald Trump Hours After Slamming Him in Debate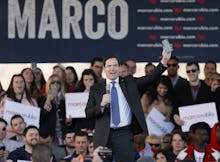 Marco Rubio: stand-up comic or presidential hopeful making a last stand? Either way, he'll be here all week, folks.
The Florida senator ripped frontrunner Donald Trump Friday, hours after the two crossed swords in a heated debate in Houston — slamming him as a pants-wetting "con artist" with a Twitter rage problem (and bad spelling).
"It's time. the charade is up," Rubio said at a raucous rally in Dallas on Friday morning. "Friends do not let friends vote for con artists."
Back at you, Mr. Trump: Rubio, who's fighting to convince voters he's the real-deal alternative to Trump, read mean tweets off his phone and mocked the billionaire as borderline illiterate for tweeting Friday morning that Rubio was a "chocker," when he meant to say "choker."
Basically, he was calling out a candidate who loves to label others "morons" and "losers" for being kind of a dope.
"How does this guy, three tweets, misspell words so badly?" Rubio asked. 
"I only reach two conclusions: No. 1, that's how they spell those words at the Wharton School of Business, where he went," Rubio continued, clearly reveling in the opportunity to ridicule Trump in much the same way that the real estate magnate has flayed his opponents for months. "Or No. 2, just like Trump Tower, he must have hired a foreign worker to do his own tweets."
Beating on a bully: After months of belittlement by the Manhattan mogul, Rubio called out Trump's tough-guy imaging — hard — by reprising some of his greatest hits from the Houston debate.
"He told a protester, 'I'm going to punch you in the face.' Donald Trump never punched anyone in the face. The first guy to ask for Secret Service protection," Rubio sneered on Friday.
"He inherited $200 million," Rubio continued. "I said it last night: If he had not, right now, he would be selling watches in Times Square or be doing one of those infomercials that teaches you how to flip properties."
With the stage to himself, Rubio painted Trump as a finicky celeb more concerned about his makeup than actually coming up with a real plan on, say, health care reform.
"He called me Mr. Meltdown," jeered Rubio, trying to own his personal history of debate malfunctions.
"Let me tell you something: During one of the breaks, two of the breaks, he went backstage, he was having a meltdown," he said of Trump's Thursday behavior backstage at the debate. 
"First, he had this little makeup thing applying, like makeup around his mustache, because he had one of those sweat mustaches. He wanted a full-length mirror. Maybe to make sure his pants weren't wet."
Who is that masked man? Big picture, Rubio is going all in to do what worried Republicans have been waiting for an A-list candidate to do: really tee off on Trump to kill his momentum.
"It's time to pull his mask off, so that people can see what we're dealing with here. What we are dealing with here, my friends, is a con artist," Rubio said. "He runs on this idea that he is fighting for the little guy, but he has spent his entire career sticking it to the little guy."
Trump, Rubio said, doesn't have much to brag about when it comes to business.
"You ever heard of Trump Vodka? You have? Well, it isn't around any more," the Florida senator said. "Or Trump Mattress, or Trump Air, or Trump Ice or Trump Water. Those are all businesses that are gone, because they were disasters. Trump hot air. So we cannot allow the conservative movement to be taken over by a con artist, because the stakes are too high."
Heavy lift: Despite months of naysaying, murmurs and attacks that rolled off his back and finished his foes, Republican voters fearful about their economic future and safety from terrorists — not to mention totally sick of establishment politics — are flocking to Trump in droves.
The latest national polls averaged by RealClearPolitics show Trump — who has a rally in Forth Worth, Texas, slated for Friday and three outright early state wins under his belt — at 33.2% support among GOP voters, an enviable lead of nearly 13 points over his closest rival, Ted Cruz. 
Rubio's in third place at 16.7%. He has yet to win a single state.
Super Tuesday is March 1.