'This Unruly Mess I've Made:' Download and Stream Macklemore and Ryan Lewis' New Album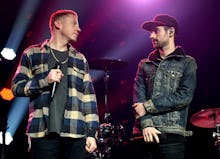 Kevin Winter/Getty Images
Seattle-bred hip-hop duo Macklemore and Ryan Lewis released their sophomore studio album on Friday, a 13-track record titled This Unruly Mess I've Made. The LP, which trails 2012's The Heist, is available for download through iTunes and is streaming on Spotify. The record boasts no shortage of notable contributors, among them Grammy Award-winning singer-songwriter Ed Sheeran, American soul revivalist Leon Bridges, heavyweight recording artist Chance the Rapper and Chicago singer/poet Jamila Woods.
Read more: Macklemore and Ryan Lewis Announce 2016 Album Release, 'This Unruly Mess I've Made'
"It's here," Macklemore, a.k.a. Ben Haggerty, told fans in a statement published on his website on Friday.
"Always a surreal feeling to put your art out into the universe," Macklemore continued. "I feel such a mixture of emotions right now. One-and-a-half years went into this project. So many ups and downs. Breakthroughs and obstacles. Conversations, debates, questions. At times, I thought it would never see the light of day. But it's here."
Prior to this album's release, Macklemore and Lewis made available the album's closing track, a cut titled "White Privilege II" that features Woods. The release caused a bit of a stir — some listeners said the title was in poor taste while others praised the artist for tackling the issue of race in America which, at the very least, sparked a dialogue.
And apparently, getting audiences to reflect and think critically is what this album's all about, according to Macklemore.
"I hope you resonate with it," he wrote in his statement on Friday. "That something grabs you. Makes you think. Question. Laugh. Dance. Inspire. Feel something. That's what music is for. I'm truly proud of what we made.
"From here on out, it isn't just ours anymore. It belongs to the world. And now we get to travel around from stage to stage and celebrate with y'all."
For more on how to catch Macklemore & Ryan Lewis live and for ticket purchase options, head here. And as we digest the West Coast duo's latest release, here's the visual accompaniment for "Kevin," which features the vocal stylings of and an appearance from the hugely talent Bridges, a 2016 Grammy Award nominee. 
This Unruly Mess I've Made track list:
1. "Light Tunnels" (feat. Mike Slap)
2. "Downtown" (feat. Melle Mel, Grandmaster Caz, Kool Moe Dee & Eric Nally)
3. "Brad Pitt's Cousin" (feat. XP)
4. "Buckshot" (feat. KRS-One & DJ Premier)
5. "Growing Up" (feat. Ed Sheeran)
6. "Kevin" (feat. Leon Bridges)
7. "St. Ides"
8. "Need to Know" (feat. Chance the Rapper)
9. "Dance Off" (feat. Idris Elba & Anderson .Paak)
10. "Let's Eat" (feat. XP)
11. "Bolo Tie" (feat. YG)
12. "The Train" (feat. Carla Morrison)
13. "White Privilege II" (feat. Jamila Woods)