Beth Ditto Calls Out the Harmful Message Plus-Size Clothing Is Really Sending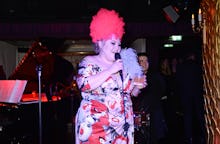 Walk into any plus-size department in just about any store and you're faced with racks of cheap, unsightly stretch polyester in prints like cheetah and zebra and mauve. 
And rock-star-turned-clothing designer Beth Ditto is totally sick of it. 
In a recent interview with Lenny, Lena Dunham's newsletter that focuses on issues that affect women, Ditto was explicitly clear why that is.
"With the shit fabrics comes the idea that fat women are meant to change, that someday they will find this 'thin person,' thought of as the real person," Ditto told Lenny's Laia Garcia. "The truth is that we are who are and the way we are is amazing and completely valid."
According to Ditto, unattractive plus-size clothing signals to its wearers that they are unworthy or stylish clothes, and that to achieve equal treatment within the fashion industry, they just have to change themselves. 
The other message that these poorly-designed plus-size clothes are sending, according to Ditto, is that these women aren't even worthy of ethically-made, quality clothes that won't fall apart in the wash or rip at the seams. 
"We don't have the privilege of walking into any store, just seeing something in the window and trying it on and buying it," Ditto told Lenny. "We don't have the privilege to be able to look at clothes and think about 'Where is this made?' and 'Is this made ethically?' We don't have that option. It just does not exist for us. I really want to get to the point where, whether it's me or someone else, there is the option of quality."
Other women have also been particularly outspoken about this idea of consistently low-quality clothes for plus-size women as well. Notably, actress Rebel Wilson has addressed the issue multiple times while promoting her own line of plus-size wear for Torrid.
"What I found with a lot of plus-size clothing was that it didn't seem cool or on-trend," Wilson told People magazine. "It was kind of like what your auntie would wear to a wedding."
Like Wilson, Ditto has responded by starting her own clothing line, which manages to do so many things that other designers have failed to do. For starters, she created stylish clothes, like black sparkly jumpsuits and tight, graphic separates. At the time of the launch, Ditto told the Huffington Post U.K. that it was important for her to design this plus-size line, which is available in sizes 14 to 28, with the styles in mind, and not just the woman's shape. 
"We have to stop this idea that we have to be a certain shape," Ditto told the Huffington Post U.K. "Not everyone wants to be sexy every day, wearing tight dresses and Spanx." 
In her interview with Lenny, she also expressed that she wanted to ensure her line was quality because she wanted to erase the idea held by some that "not all fashion has to be disposable." She even made sure her line was made ethically and revealed that although her practices of having the clothes made in New York City and focusing on quality made it more expensive than she'd like, she knows that it's still something that women really need. 
"None of it is shit fabric," she said. "None of it. ... I have a fear that when my line comes out there will be scrutiny over the prices of it, but I can guarantee that the price of it is all because of how it's made, where it's made and what it's made from." 
And for some plus-size women who are tired of cheap, low-quality clothing, it's exactly what they've been waiting for.