I Tried a Tinder for Democrats and Republicans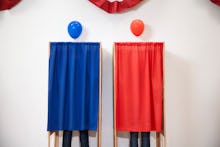 Is there anything sexier than a man in an "IDK NOT TRUMP THO" t-shirt? Maybe not on Verona, an app that claims to promote "world peace, one swipe at a time," where I spent the past week trying to talk to people who agreed with me on one thing only: the fact that we disagree with each other. 
Originally designed as an app to bridge the gap between Israelis and Palestinians, Verona — named for Romeo and Juliet's hometown, the site of bloodshed between Montagues and Capulets — matches users from opposite sides of the political spectrum.
"When [Verona] first came out, we said it was a dating thing, and then all of these people from the Middle East reached out and said, 'Hey, that's great, but what we really need out here is a friendship app,'" Matthew Nolan, Verona's founder, told Vice. "So I sort of rebranded it as a friendship app, and people use it primarily for building friendships on either side of the divide." 
Verona's success made it ripe for expansion, especially in a country as politically polarized as the United States. So Nolan decided to expand the app's options to match Republicans and Democrats as well as Trump supporters and Latinos — if not to get them to date, then at least to get them to stop bickering.
Given the seemingly insurmountable divide between right- and left-leaning voters, which the Pew Research Center recently found is at an all-time high, this seems an unlikely outcome for an app. But it also seems especially unlikely to happen between strangers anywhere on the internet, where people tend to use online anonymity as a veil for viciousness, and where political discussions can get particularly heated and unproductive. 
Those conversations, online or IRL, seem to be especially bad during this election year when debates between Republicans and Democrats have perhaps never felt more charged. The vitriol that flows left to right and right to left is, unfortunately, familiar to me, and I wanted to see if Verona could help change the tone of real people's political conversations. 
Because the app now emphasizes achieving basic civility over romantic ties, I approached Verona as an opportunity to meet men and women whose views clearly differ from my own — and for a left-leaning feminist like me, that generally means Republicans. As I swiped through potential matches, however, the offerings were overwhelmingly normal-looking millennial dudes from across the country, whose motivations weren't entirely clear. I wasn't sure if these guys were looking for a fresh, platonic conversation or a hate-fuck. 
"I don't like a competitive system where half the government is constantly shutting out the other half."
Almost immediately, I got two messages: one from a guy who wanted to know if I was a Marxist, and another from a 32-year-old named Lawrence*, who seemed to take an interest in the fact that I'd listed feminism as a passion in my profile. He told me about a feminist short story collection he recently finished, and I took it as an opportunity to ask how he's reconciled a belief in gender equality with the Republican party's anti-woman rhetoric. Turns out, he hasn't. 
"To be honest, I'm not completely Republican or Democrat," Lawrence said. "I don't like a competitive system where half the government is constantly shutting out the other half. That said, Republicans do support women. Just, sadly, not the far-right wing, including those who are running for president right now." 
That was part of what motivated Lawrence to try Verona; he wanted to see who else was out there to commiserate with who wasn't a Republican, and he wasn't alone. 
David*, a 33-year-old from Miami, told me he wonders if people on opposite sides of the aisle "really have no way of agreeing with one another," and that he saw the app as a great way to make new friends. In fact, most of the users I matched with wanted to talk politics — as in actually have a conversation, not yell at each other about how much we disagree. Some of the conversations were intelligent, even enlightening. I might have even developed a crush on a guy who, yeah, was wearing an "IDK NOT TRUMP THO" shirt. 
I found through several insightful conversations that nobody was there to get laid or even to get mean. Perhaps I could have found the Jack Donaghy to my CeCe Cunningham, or the Mary Matalin to my James Carville, but I'd have had to look hard. Mostly, Verona users just wanted to engage in tame dialogues with people they're so often told they can't get through to. They wanted to find a middle ground where they've been told it doesn't exist. 
The messages between Verona users, though, seem to be that middle ground: These one-on-one chats revealed that young people on both sides of the aisle are concerned about what will happen in a country where voters feel that they can't connect with one another. Maybe they're just concerned about a Trumpocalypse. It's difficult to tell, especially since the app is a self-selected group, likely comprised of the most open-minded on the left and the right. 
Regardless, the app might not lend itself to true love, but it does lend itself to real conversation. Maybe Congress should try it.