Chris Christie Endorses Donald Trump, Praising His "Strong Leadership"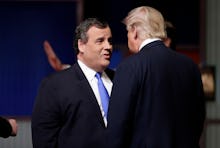 New Jersey Gov. Chris Christie vigorously threw his support to Donald Trump in the race for the Republican presidential nomination Friday, adding steam to the frontrunner's drive for victory.
"There is no one who is better prepared to provide America with the strong leadership that it needs both at home and around the world than Donald Trump," Christie said in a joint press conference with Trump in Fort Worth, Texas.
"He is, looking at the five people on that [debate] stage last night, the clear standout and the person who will do exactly what needs to be done to make America a leader around the world again," Christie said.
"He'll provide strong, unequivocal leadership, he will do what needs to be done to protect the American people," the Garden State governor said. "The best person to beat Hillary Clinton [in November] is, undoubtedly, Donald Trump."
Playing into the tough-guy outsider theme he himself couldn't carry across the finish line, Christie painted Trump as a Democratic nightmare: "They know how to run the standard political playbook against junior senators and run them around the block. 
"They do not know the playbook with Donald Trump because he is rewriting the playbook."
Christie's comeback: Christie abandoned his own campaign for the Republican nomination after gambling his entire bid on a strong showing in New Hampshire that didn't materialize.
The New Jersey Republican camped out in the Granite State, holding scores of town hall-style events at which he tried to connect with primary voters as a fiscal conservative who would advance a muscular foreign policy and still embrace a compassionate approach to social ills such as drug addiction and treatment.
Before he bowed out, he savaged Rubio in his final primetime debate, mocking him as a robot mindlessly repeating canned talking points in classic career politician style.
Rubio, who's been trying to frame himself as the sensible GOP voter's best hope of stopping Trump, went after the frontrunner on all cylinders at Thursday night's debate, and upped the ante at a Friday rally in Dallas before the big Christie news dropped.
Christie had some more choice words for Rubio at the presser with Trump, whom he called "strong enough to take on the D.C. establishment — which is what's represented by, you know, Sen. Rubio" and said would "turn around what's happening in the country; the failure of both parties to be able to do anything that's worthwhile."
Like a wrecking ball: Christie's leap onto the Trump train racheted up the chatter about Trump's march to a potential nomination:
Bully tag team? While he's gained a reputation for being as much of a bully as Trump himself, Christie has the potential to broaden the frontrunner's base of support and perception of electability in the drive to Super Tuesday. 
Most importantly, Christie's endorsement could open the door for more prominent Republicans to jump on the Trump bandwagon.
Christie has been on the sharp end of Trump's attacks, too:
But only one man can capture the nomination, and Christie's brash style sets him up to be the ultimate Trump attack dog. Having won as a Republican in a blue state, Christie can claim a proven understanding of what it takes to generate crossover appeal.
Asked if he's angling for a future cabinet post in a Trump administration with his endorsement, Christie said he plans to serve out his term and then go off and make big bucks in the private sector — Trump style.