Before You Freak Out About the PrEP Failure Story, Know This About HIV Prevention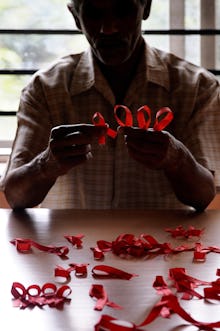 The news landed with a thud in the HIV community on Thursday: A gay man, who was adherent to his regimen of Truvada, a pill designed to prevent HIV infection, contracted a drug-resistant strain of HIV. A lot of that comes off as science jargon, but basically the pill that is meant to prevent HIV didn't do its job for the first time since it was approved by the FDA in 2012. 
The most well-known studies on PrEP showed that people who took the pill at least four times a week did not contract HIV. The wild card in this case is the drug-resistant strain of HIV which, according to Dr. Bob Grant, a lead PrEP researcher, describes less than 1% of HIV strains.
Grant emphasized that any estimation of PrEP's efficacy would only be slightly lowered when factoring in this first-time infection.
"If PrEP is not fully effective against viruses that are highly resistant to both drugs in [Truvada], the efficacy of PrEP when taken may decrease from 99% to 98%," Grant said in an interview with San Francisco AIDS Foundation's BETA Blog. "Or from 99.9% to 98.9%. Or from 100% to 99%. The decimal points are not certain."
"My point is that one chooses whether to focus on the glass 99% full or 1% empty." 
According to Grant, the man who seroconverted — went from HIV negative to HIV positive — is currently healthy and undetectable, which means he has very little virus in his blood and doesn't transmit it to other people. 
The news about PrEP's first failure has definitely already put advocates on the defensive. And with good reason: As good a form of HIV prevention as PrEP is, it still has some very vocal detractors, including the AIDS Healthcare Foundation, the largest provider of care for people living with HIV in the United States. Their smear campaign against this little blue pill has gotten so drastic that magazines like POZ have had to start to fact check them. 
PrEP is just one option among the many and increasing ways in which we can fight HIV. And we must also scrutinize other modes of HIV prevention. Condoms, like PrEP, are an imperfect form of HIV prevention. 
There are studies in which condoms come up short in comparison to PrEP.  One published study shows that 51% of HIV transmissions in Toronto happened between people who were using a condom during anal sex. Another, from the United States' Centers for Disease Control and Prevention, shows that consistent condom use prevents only 70% of infections. 
Many have compared PrEP to birth control — both are a daily pill meant to prevent possible outcomes after condomless sex. However, PrEP has a much lower failure rate than birth control. Most studies show that birth control has a failure rate as high as 9%. 
According to Gilead, the company that manufactures Truvada, there are 40,000 people taking PrEP as of early February. That doesn't include people who are taking PrEP through clinical trials. The CDC has also made it clear that PrEP is part of its strategy to fight the nationwide HIV epidemic. In fact, if current testing and undetectable rates don't increase, PrEP may prevent almost 50,000 new infections by 2020. 
The results will be even worse when broken down by race. Without a ramp-up in HIV prevention efforts, as well as efforts to fight the socioeconomic factors at work in HIV infection, 1 in 2 black gay men and 1 in 4 Latino gay men may end up HIV positive. 
Intimately linked with any conversation about the many methods of HIV prevention available are feelings of fear, shame and guilt. Fear-based prevention messaging is not new: The New York City Department of Health infected the airwaves in 2011 with stigmatizing messages, like this extremely NSFW ad (it's actually pretty gross no matter where you are). 
However, several studies on HIV prevention messaging show that fear doesn't help people who are actually at risk. British HIV nonprofit Terence Higgins Trust, in a brief titled "The Role of Fear in HIV Prevention," reported that fear-based messaging only worked on people who were at very low risk for HIV. 
"After several reviews of what makes a good HIV prevention intervention, none have identified the use of fear as an essential component," the brief reads. 
Jeremiah Johnson, the HIV prevention research and policy coordinator at HIV policy think tank Treatment Action Group, posted a long response on Friday to news of the PrEP failure. In it, he discussed a possible way forward for HIV prevention messaging. 
"What is disheartening within the current HIV prevention movement is seeing just how much we still feel the need to police each others' bodies and our sex lives," he wrote. "We have PrEP-nazis and condom-nazis — people both inside and outside of our communities who go well beyond offering information and advice and instead move into coercion and manipulation in an effort to get gay men to have the kind of sex that we deem appropriate for them. We frequently do not honor individual choice and empowerment, and it sets the stage for the often bitter, shaming, and defensive debates that we continue to have around PrEP, TasP and condoms."
The bottom line: We have a lot of tools to fight HIV, none of them perfect. Given PrEP's incredible usefulness, Grant sees no reason to sound the alarm after one PrEP failure story hits the news.
"Yet I also think that gay men benefit from feeling safer during sex, and I am grateful that PrEP affords that feeling," he told BETA Blog. "People who feel safe feel more power, more confidence in the future, and more desire to discover and pursue their deeply felt personal goals. Believing in the future brings powerful social and personal benefits. There is less trauma. This is all good in my opinion."